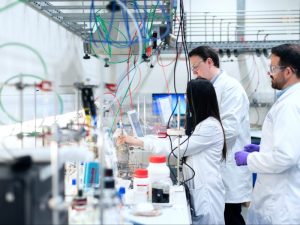 Wentworth Institute of Technology has selected Huntington Development Group to build a mixed-use life science project at 500 Huntington Ave. in Boston. Huntington Development Group is a joint venture of The Fallon Co., Owens Cos. and Waldwin Development Co.
Cushman & Wakefield and Brailsford & Dunlavey have previously performed a real estate analysis and solicitation process on behalf of Wentworth Institute of Technology.
The project calls for 640,000 square feet of life science space, retail and restaurant space. Additionally, the development will include publicly accessible open space for the community as well as Wentworth students, faculty and staff. The project is slated to create 1,900 construction jobs during development, along with 1,500 full-time job opportunities upon completion. During the planning and construction process, more than 100 Wentworth students are slated to be employed within the cooperative learning opportunities.
Owens Cos.' President Edward Owens Jr. said in prepared remarks that the development aims to help the university deliver new learning opportunities, as well as an enhanced on-campus experience and partnerships to its student body. He added that the Longwood Medical Area will also benefit from the commercial, retail restaurants and open spaces within the project.
Situated on Huntington Avenue, the project will be less than 4 miles southwest of downtown Boston. The Boston Museum of Fine Arts will be less than half a mile north of the development. Several transportation options will also be within walking distance.