By Keith Loria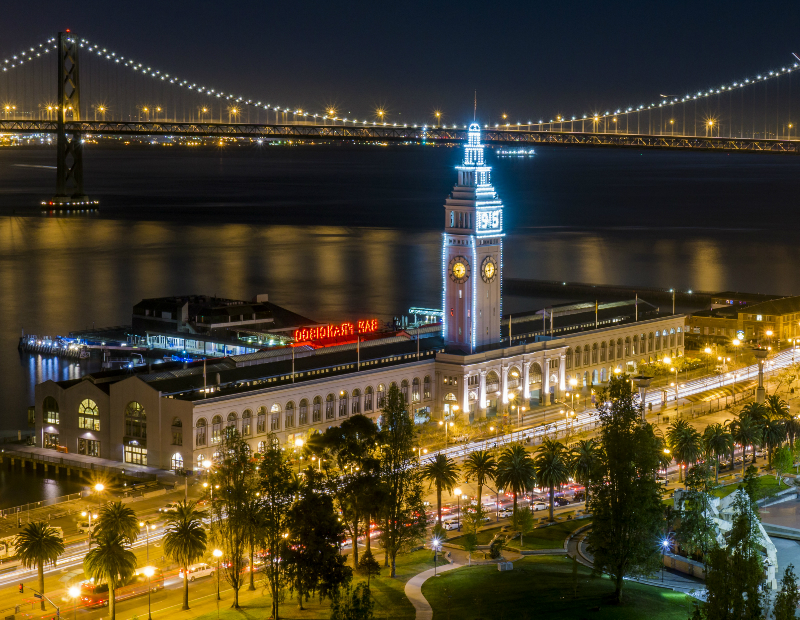 Hudson Pacific Properties and Allianz Real Estate have teamed on the purchase of a leasehold interest in the land and improvements of the historic Ferry Building, an iconic mixed-use building in San Francisco. Equity Office, an affiliate of the Blackstone Group, sold the asset for $291 million.
Hudson Pacific took a 55 percent interest and will act as the managing member and day-to-day operator of the property, while Allianz owns a 45 percent interest. The remaining term on the ground lease is 49 years.
"We viewed the ability to invest in the Ferry Building as a generational opportunity," Gary Phillips, Allianz Real Estate of America's managing director – head of acquisitions, told Commercial Property Executive. "In my opinion, it's truly a one-of-a-kind property, and it fits very well within our real estate strategy in the U.S.—to acquire unique assets alongside best-in-class partners within dynamic local markets."
Located at 1 The Embarcadero, the historic Ferry Building offers 192,532 square feet of Class A office space and another 75,486 square feet of retail space. The building opened in 1889 and boasts a 245-foot-tall clock tower with four clock dials on top. The property features public open spaces and views of the San Francisco Bay.
"This is a rare opportunity to acquire landmark office and retail space in San Francisco, one of the key technology and innovation centers in the world," Alex Vouvalides, Hudson Pacific Properties' chief investment officer, told CPE. "The Ferry Building is already home to cutting-edge tech and innovation companies, and will remain attractive for companies looking for premier creative office space. On the retail side, the Ferry Building is a leading shopping and dining destination, and we see opportunities to create even more of a draw for local residents and tourists alike."
On the waterfront
The Ferry Building is situated along the city's popular waterfront Embarcadero at the foot of Market Street, and is considered one of San Francisco's most famous landmarks. "We are strong believers in San Francisco and the broader Bay Area over the long term," Phillips said. "Yes, the market has been hot the past several years. But the best assets don't change hands during the down times, and we tend to be picky buyers. As committed long-term holders, we can withstand any headwinds that may arise in the future."
The popular waterfront neighborhood has attracted numerous Fortune 500, blue-chip technology and professional services firms, including SS&C Technologies Inc., Meltwater Inc., Meritage Group LP and Niantic Inc. Other tenants include The Slanted Door and Blue Bottle Coffee.
According to Phillips, although no substantial renovations are planned at the onset of ownership, that could change as Allianz and Hudson Pacific discover ways to create value and enhance the overall experience for both tenants and visitors.
"We have a deep presence in the Bay Area, and we understand the responsibility of stewarding a historic property like the Ferry Building," Vouvalides said. "We plan to incorporate new amenities, activities and events that will further position the Ferry Building as a premier office and retail space, while making sure we preserve this landmark's legacy and its contributions to the community."
In January, First Bank Florida signed a 26,000-square-foot lease at 80 Waterford Way, a 246,085-square-foot office building owned by Allianz, located in Miami, Fla.