November 4, 2011
By Nicholas Ziegler, News Editor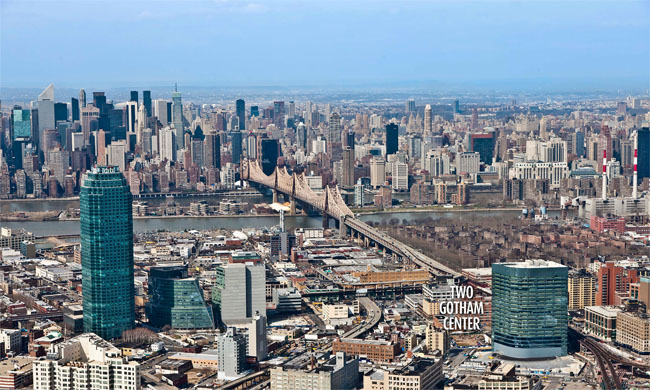 H&R REIT, the Canadian open-ended real estate trust that holds more than $5.4 billion of CRE assets, has just made another marquee pickup, adding the newly constructed Two Gotham Center in Long Island City, N.Y., to its oversight for $415.5 million.
The building, completed in 2011 to a LEED Silver standard, consists of 22 stories with 661,000 square feet of rentable space. The Wall Street Journal reported that the building was sold at a $100 million profit by the City of New York and Tishman Speyer. CBRE Group Inc. represented Tishman in this transaction, in a partnership with Square Mile Capital L.L.C. and the Modell family.
"This groundbreaking deal underscores the continued transformation of Long Island City into a premier destination for high-end office users," Bill Shanahan, vice chairman of CBRE, said. "Its proximity to Long Island City's major transportation hub, along with cutting-edge green technology and breathtaking views of Manhattan, makes Two Gotham Center an attractive, high-end alternative to Midtown and a major business center in its own right."
Two Gotham is the first building of Gotham Center, a two-block development meant to transform the landscape of Long Island City. When completed, the complex will feature approximately 3.5 million square feet of rentable office, retail, parking and residential space. The current building sits within walking distance of six of NYC's subway lines, and according to H&R REIT, "is ideally positioned to serve as an extension of Midtown Manhattan, where virtually no development sites remain."
In January of this year, 4,000 employees of the New York City Department of Health and Mental Hygiene moved into Two Gotham from the department's previous locations in Midtown and Lower Manhattan, representing 100 percent of the leased space. The department has a 20-year lease with a contract that allows for rental escalations of 10 percent every five years.