October 6, 2011
By Barbra Murray, Contributing Editor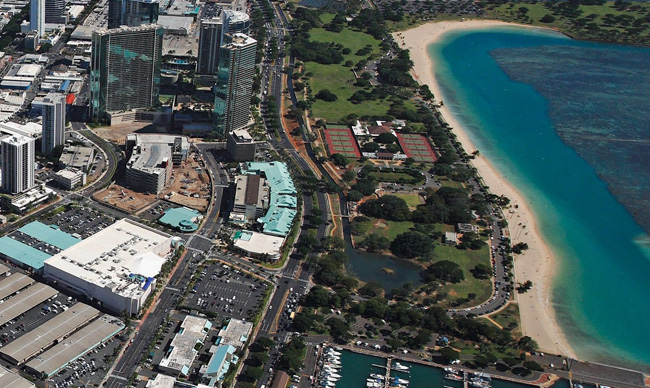 Lenders are quite keen on the apartment sector, but in some cases, they are warming up to the retail market, too, as evidenced by a $250 million loan that just closed for The Howard Hughes Corp.'s redevelopment of Ward Centers, a 550,000-square-foot shopping district in Honolulu that is set to evolve into a premier mixed-use asset.
Acting on behalf of HHC, Quadrant Realty Finance secured a loan from a consortium of banks led by Wells Fargo. The other lenders aboard include CIBC, First Hawaiian Bank, Bank of Hawaii, American Savings Bank and Central Pacific Bank. HHC utilized $212 million of the funds to refinance three existing mortgage loans and address closing costs. The real estate owner and developer will hold the remaining $38 million in undrawn funds for the initial phase of the Ward Centers redevelopment. The five-year loan comes with a blended interest rate of 3.45 percent.
"This financing is an important first step as we launch the redevelopment and, ultimately deliver our master plan to unlock the value of Ward Centers," David R. Weinreb, CEO of HHC, said.
Developed in 1975, Ward Centers occupies 60 acres fronting Ala Moana Beach Park, just outside of downtown Honolulu and Waikiki. HHC has grand plans for the property. With the Hawaii Community Development Authority having signed off on a 15-year master plan in 2009, the road is paved for a major mixed-use expansion. The site can accommodate as much as 9.3 million square feet of new development, including 5 million square feet of retail space, 4 million square feet of office and commercial space and 7.6 million square feet of space encompassing 4,300 square feet of residential units.
The creation of a residential segment would make the shopping, dining and entertainment destination a true live-work-play enclave and, given current trends, it would not be unreasonable to include condominiums in the housing offerings. Year-to-date condo sales in Waikiki as of the close of the third quarter had increased 16.3 percent from the same period in 2010, according to a Honolulu Board of Realtors report. As for retail, the demand is strong in the Waikiki submarket, which recorded a mid-year vacancy rate of roughly 5 percent, as per statistics from commercial real estate services firm Colliers Monroe Friedlander. And experts hope for the office market to go on the mend as more and more jobs are created in the information services and professional/business services areas in Honolulu.
Loan originations for projects like Ward Centers are slowly picking up pace. The credit crunch is loosening, it appears. Quadrant's Randy Fleisher, who arranged the financing for HHC, provided Commercial Property Executive with an update on the capital markets. "What we are seeing in this last quarter of the year is that the CMBS market that had some upheaval over the summer has normalized," he said. "Insurance companies and pension funds that have remaining allocations are continuing to make loans and are being aggressive in the terms and rates of their offers. Those that have met their allocations are being more selective."
Still, the preference among the lending community is for multi-family financing. "We're seeing an increase in demand among equity providers looking to place money in ground-up multifamily construction as well as value-add and turnaround properties," Fleisher added.
Still, there's good news all around. "We expect to have a strong fourth quarter as people look to take advantage of the historically low interest rates."