December 23, 2011
By Nicholas Ziegler, News Editor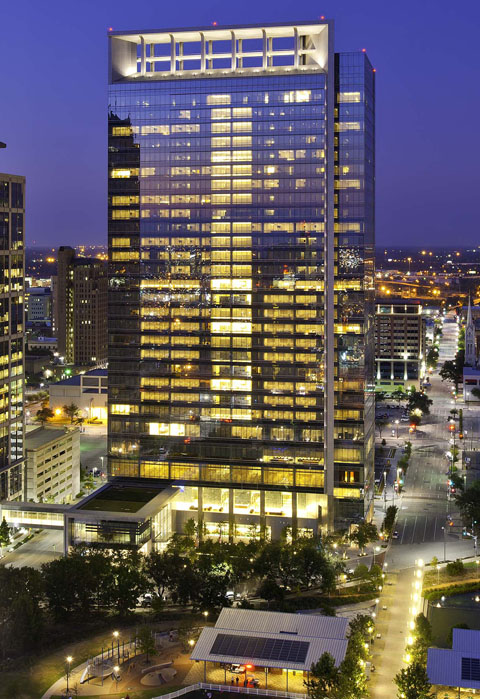 Carrying a sale price of $442.5 million, Houston's Hess Tower was just picked up by H&R Real Estate Investment Trust from Trammell Crow Co. and Principal Real Estate Investors. According to industry tracker CoStar group, the building traded for $524 per square foot, a record for a Houston office.
"We began this development project in 2007 and persevered through a multitude of challenging economic forces," Aaron Thielhorn, managing director of Trammell Crow's Houston office, said. He went on to call the office "a signature project" that will "signify the strength of Houston in the global real estate marketplace."
Completed in June of this year, the 29-story tower features 844,763 square feet of space and is certified LEED Platinum. The property is fully leased through June 2026 to global energy firm Hess Corp., and is situated in the heart of the city's Entertainment District. It includes an adjacent 10-level, 1,430-space garage.
According to CoStar, Canada-based H&R sold stock valued at $125 million and secured a $250 million first mortgage to finance the transaction.
The Houston office market is one of the most favorable in the nation, according to commercial real estate services firm Jones Lang LaSalle. Total leasing activity and overall asking rents increased significantly in the third quarter of this year from the third quarter of 2010, and total absorption was a positive 1.5 million square feet in 3Q11. "This was mainly a result of expansions in the oil and gas sector," JLL noted in a recent report, "as Hess Corporation took an additional approximate 400,000 square feet when moving into Hess Tower."
Toronto-based H&R REIT owns more than 42 million square feet of commercial real estate space in North America valued at $5.4 billion.