By Anca Gagiuc, Associate Editor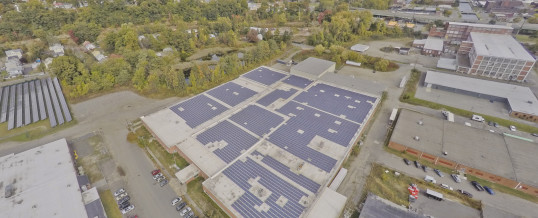 At the Expressive Design Group facility located at 49 Garfield St. in Holyoke, Mass., the first commercial rooftop solar project has begun operations. The installment has almost 1 Megawatt of generation capacity coming out of the 3,762 panels that occupy more than 4 acres of roof space.
Installation of the panels began on August 3 as part of a Power Purchase Agreement between the Holyoke Gas & Electric (HG&E) and Healthy Planet Partners (HPP). C-TEC Solar was the installer and project manager for the installation.
The $2 million investment enables the utility provider to buy the output from HPP to power up to 200 homes per year. Furthermore, as part of the arrangement, the building owners will receive lease payments for the rooftop use.
"Through its Power Purchase Agreement with Healthy Planet Partners, this project will add additional renewable energy to HG&E's portfolio and will help HG&E continue to maintain some of the lowest electric rates in the region and one of the smallest carbon footprints for an electric distribution company in the region" said James Lavelle, director of the Holyoke Gas and Electric, during a site visit on Tuesday, October 20 along with City and business officials.
In order to make the project financially possible, the city negotiated a Payment in Lieu of Taxes (PILOT) agreement with HPP which provides HG&E with $5,000 annually for twenty years, and was based on the amount of energy generated each year. The installation was further supported by the 30 percent federal investment tax credit, as well as a Solar Renewable Energy Certificate (SREC) incentive from the state. "This is a prime example of the private and public partnerships that can benefit our economy, our environment and our community," Mayor Alex Morse said in a prepared statement.
"As Holyoke continues to distinguish itself as a leader in renewable energy efforts, I thank all parties involved for their commitment and investments in Holyoke in what should be the first of many similar installations. Starting next year, we expect to launch a Renewable Energy Development fund which will provide a monetary incentive for these types of rooftop solar installations. This will not only offer us the opportunity to increase the availability of our low-cost, renewable energy, but also provide an income stream to building owners," added Mayor Alex Morse.
"This project contributes to RICAR LLC's commitment to do its part in reducing its carbon impact and making Holyoke a greener place," said Rita Milos of RICAR LLC Real Estate Partnership, which owns 49 Garfield Street. The building is home to Expressive Design Group, a design and manufacturing business for greeting cards. The panels will occupy about 75% of the total roof space, generating approximately 1,196.32 Megawatt Hours per year.