November 9, 2011
By Michael Ratliff, Associate Editor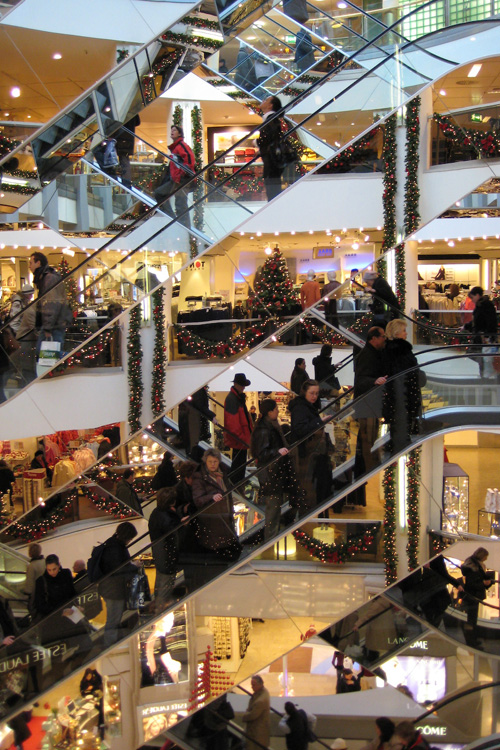 The East Coast has already seen its first snow and Thanksgiving is just around the corner – so the holiday shopping season is upon us. Retailers are resulting to new measures in order to drive sales during the make-it or break-it months and, to compete, Best Buy Co., Target Corp. and Macy's Inc. have already begun preparations for Black Midnight.
Kenneth McCarthy, senior economist & managing director for research, and Matt Winn, senior managing director & retail service leader, both of Cushman & Wakefield Inc., expect retail sales to improve this holiday season over 2010. The pair, who sat on the panel for the International Council of Shopping Center's pre-holiday webinar on Monday, stressed the fact that the lingering economic uncertainty has put a major damper on consumer confidence. This will keep sales from reaching their full potential, according to McCarthy, as "consumer confidence and retail sales go together like ham and eggs."
The bad news is that consumer confidence has dropped from 2010 to almost heart of the recession levels thanks in part to this summer's deficit debacle and the fragility of the global economy. The good news is that consumers are better off than they think they are.
"The consumers right now, even though they are worried, they are in a bit better shape financially than their overall confidence numbers would suggest," McCarthy said.
This lends the economist to predict a modest 5 percent increase in sales this season over last year. If this number seems high, remember just how far sales dropped during the onset of the recession. McCarthy added that if there is going to be a surprise this year, it is going to be on the upside.
Retailer real estate strategy was also a major topic of conversation. Big-box and medium-box stores are downsizing, according to Winn, who said that 20,000-square-foot stores and smaller have become the new sweet spot. This trend, which actually started before the recession, is starting to really show. Best Buy stores, which used to run in the 50,000-square-foot range, are now a trim 17,000 square feet.
"What you are really seeing is a shift in retailing practice," Winn said. "In the big-box rows, the inventory was on the floor and the goal was to let you see, touch and feel every piece of merchandise in every color. Now, because of the advances in technology, you are seeing select merchandise on the floor. You go on the internet and look at colors and select variations."
Another trend manifesting this holiday season is shift towards city-center retail. Gateway urban properties are seeing rent growth and an increase of flagship stores. Fifth Avenue in New York is still the most expensive retail space in the world at $2,250 per-square-foot per-year.
"Interestingly enough is that this price is not deterring people, and we are not seeing smaller footprints, but rather larger footprints," Winn added.
This is best demonstrated in the case of 666 Fifth Avenue, the new home to two foreign retailers who have come to the United States in search of a new customer base. Japanese retailer Uniqlo completed a $300 million, 15-year lease, the largest retail lease transaction in Manhattan's history, on the north corner of the property for a flagship store that opened in October. On the south corner, Zara recently purchased a retail condominium previously occupied by the NBA Store for $324 million, also for a flagship store.
The pre-holiday conversation closed on a good note, with McCarthy expressing optimism that a small shift in confidence could spur the recovery into a higher gear. "I do think that with interest rates low, with households and businesses in much better shape financially, that all it will take is some type of boost in confidence, a reduction in that uncertainty, to cause those business and consumers to become more aggressive and for the economy to pick up more quickly," he said.
Whether this shift will occur before the holidays remains to be seen.