By IvyLee Rosario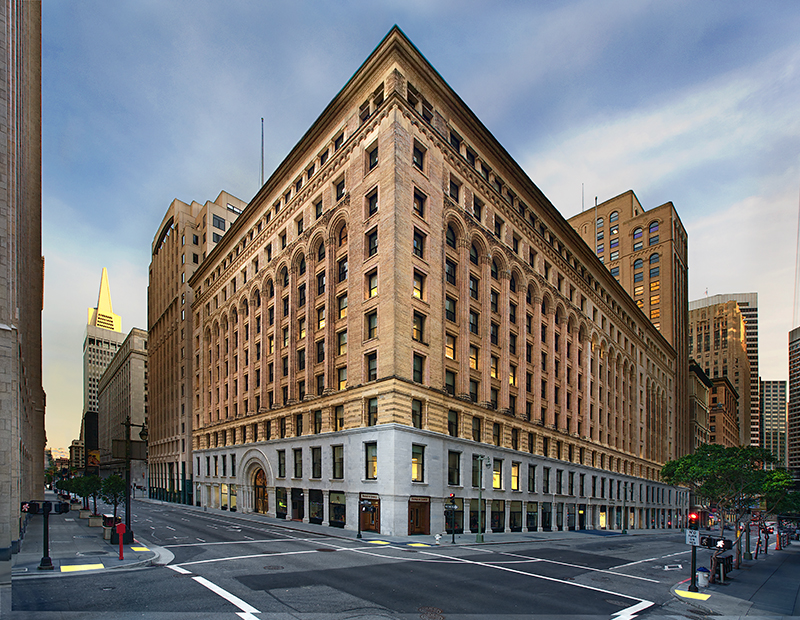 The Swig Co.'s landmark historic San Francisco Mills Building and two adjacent properties were awarded LEED Platinum certification from the U.S. Green Building Council. The Mills Building is one of the longest serving office buildings in the country to secure a platinum certification. 
Located at 220 Montgomery St., along with 333 and 369 Pine, the Mills Building is believed to be the oldest commercially-owned, multi-tenant building in the Bay Area to be awarded the USGBC's highest certification.
No Stranger to LEED
The Swig Co. has owned the building for 63 years and have recently updated the plumbing system to reduce water consumption, developed an indoor air quality program, adopted green cleaning policies, and installed low-energy LED lighting and automation features. Mills also includes recycling and composting, electric vehicles charging stations and bike racks. Before being awarded LEED Platinum, the building was under a LEED Gold certification since 2012. 
"The Swig Company takes its responsibility for environmental stewardship very seriously and improving the operation of buildings such as The Mills Building in a way that enhances the tenant experience and is beneficial to the overall environment will always be a key goal for us," Tammy Liang, property manager, told Commercial Property Executive. 
Recently, The Swig Co. sold one of its other historic San Francisco buildings, 901 Battery St., a 89,904-square-foot office building in the North Waterfront-Jackson Square neighborhood. 
Image courtesy of The Swig Co.