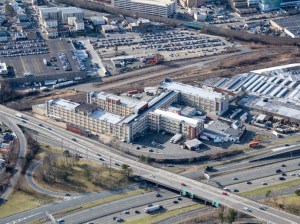 A new owner has emerged for the historic seven-building, 331,000-square-foot industrial complex in Paterson, N.J., that had been the site of the Wright Aeronautical Corp. and was at one time the largest airplane engine factory in the U.S. The property has changed hands for the first time since 1949.
---
READ ALSO: How Economic Health Will Energize CRE
---
The seller and the price paid for the I-80 Industrial Complex was not released but the buyer of the 4.36-acre site was identified as Joseph Smouha, president of Mynt Properties LLC, a private equity and real estate development organization based in Passaic, N.J. Mynt also owns the 1.6 million-square-foot Passaic Industrial Park, the site of the former Botany Mills textile plant, another early 20th century industrial property now used for warehousing and distribution.
A Cushman & Wakefield team of David Bernhaut, Gary Gabriel, Kyle Schmidt, Frank DiTommaso, Ryan Larkin, Seth Zuidema and Eli Milstein represented the seller in the transaction.
Bernhaut described the I-80 Industrial Complex as a great investment opportunity for the new ownership, noting in prepared remarks it is located in proximity to many of New Jersey's main transportation arteries. It is situated directly off Interstate 80 and is 14 miles from Manhattan, 18 miles from Newark International Airport and 23 miles from the Port of New York & New Jersey. Located in one of Northern New Jersey's most supply-constrained markets, it is also within the third-largest industrial market in the U.S.
Bernhaut added the complex, which currently has 14 tenants paying rents significantly below market rates, is bolstered by strong market fundamentals driven by the thriving e-commerce and logistics sector. The buildings, located at 239-241 Lindbergh Place, 122-128 Beckwith Ave. and 128-140 Beckwith Ave., have heavy floor loads, large floorplates and abundant power sources.
Historical roots, uses
Once known as the largest airplane engine manufacturing facility in the U.S., development of the property began about 1916 and continued through approximately 1948. According to the city of Paterson, the Paterson Industrial Development Co. began construction at the site in 1916. The Wright Aeronautical Corp., which traced its roots to the Wright Brothers, Orville and Wilbur, first moved to Paterson in 1920 from New Brunswick, N.J. In 1926, Wright began the production of an engine for military and domestic airplanes that became used by noted aviators like Charles Lindbergh and Amelia Earhart. Wright engines also played a major role in World War II as they powered aircraft like the Enola Gay, which dropped the atomic bomb on Hiroshima in August 1945. After the war ended and demand began to recede, Wright closed the plant and started selling off parcels on the property. Information on the city's website about the property notes that the buildings have been repurposed over the years to accommodate light industrial and commercial tenant uses but still retain a high degree of historic integrity.