By Mihaela Coste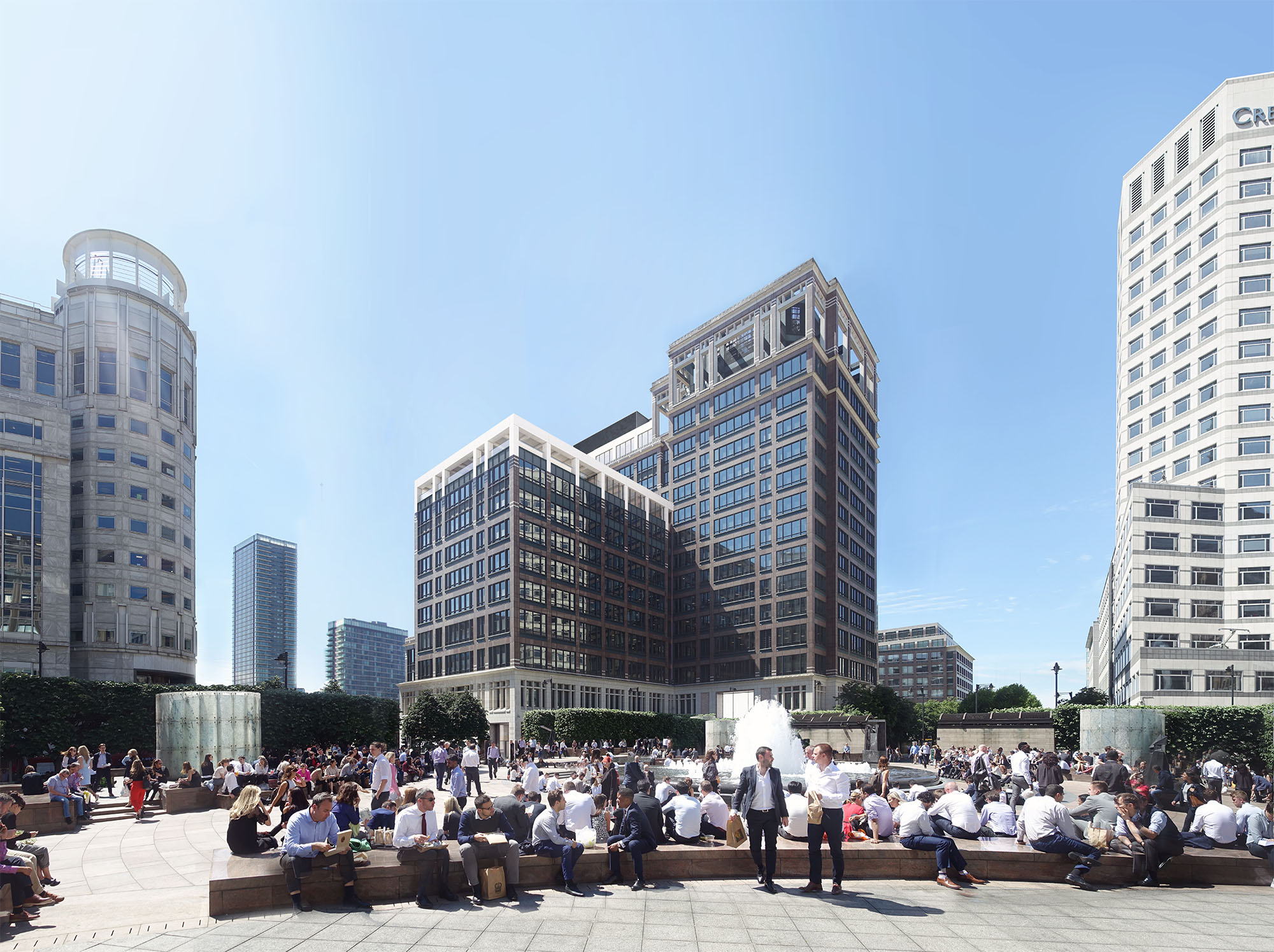 Hines plans to undertake a major transformation of 25 Cabot Square, its 455,000-square-foot office building located in the Canary Wharf submarket of London. The redevelopment of the asset, which will be rebranded as "The Cabot", will bring 200,000 square feet of new space to the market.
The 17-story building was acquired by Hines in 2014 through a sale and leaseback with Morgan Stanley, which made a long-term commitment and occupies 250,000 square feet over levels one through six.  According to public records, the asset traded for approximately $373.5 million (£225 million). The acquisition was funded with proceeds from Hines Global's revolving credit facility and an approximately $205.4 million (£123.8 million) mortgage loan with Pricoa Mortgage Capital.
Completed in 1991 as part of the first phase of the Canary Wharf Development and designed by Skidmore, Owings & Merrill, the asset offers amenities such as restaurants, coffee shops and a fitness center. 25 Cabot Square is situated in close proximity to several public transportation routes, including the Canary Wharf underground metro and rail stations and the future Crossrail railway station.
New office and retail space to the market
The transformations of the asset will begin in July and will include a comprehensive redevelopment of the ground floor entrance, extending and remodeling the arrival and reception area and re-landscaping the public realm across the site. Hines will add an additional 10,000 square feet of retail across four new units, which will include a restaurant, café and food and beverage outlet. The office space across levels 7 to 14 will be completely renovated, bringing over 200,000 square feet of new office space to the market, as well as flexibility for additional spaces to be delivered and new terrace-level gardens on the 9th and 14th floors.
Carmody Groarke, RIBA-award winning architects, have been appointed to lead the re-design, which is expected to be completed in late 2018, coinciding with the opening of the new Crossrail Elizabeth line. CBRE and Squarebrook, alongside existing advisors Knight Frank, will hold the leasing roles.
"The renaissance of The Cabot will be a significant milestone for Hines. It reinforces our long-term commitment to Canary Wharf as a market and is emblematic of the continuing evolution of the area," said Raj Rajput, managing director & head of asset management at Hines, in a prepared statement. "Canary Wharf is changing and is no longer the preserve of the financial services industry. Occupier demand is coming from an increasingly broad range of sectors, with TMT clearly at the fore, and there is a paucity of new, modern and flexible, large-scale workspace to serve this new dynamic."
Images courtesy of Hines