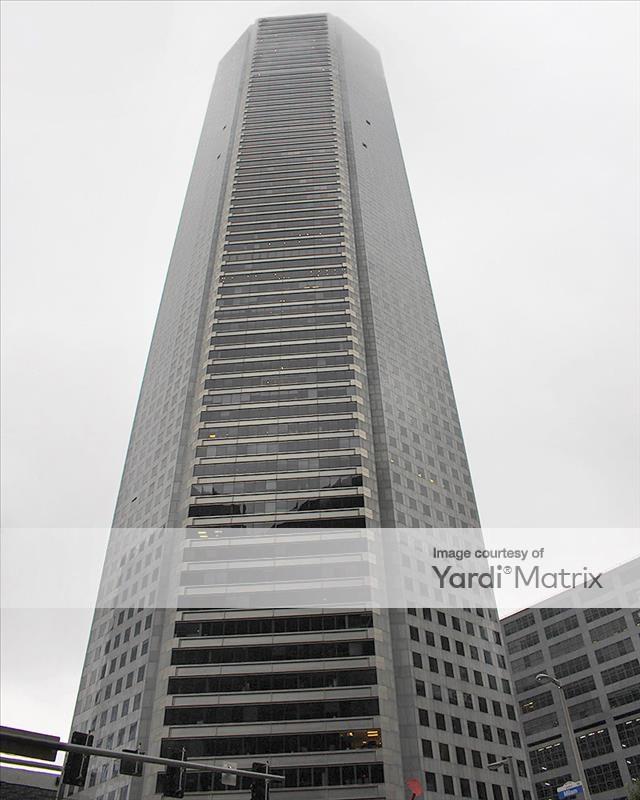 A joint venture of Cerberus Capital and Hines has acquired Houston's JPMorgan Chase Tower, the tallest building in Texas, for approximately $627 million, according to a report from Real Estate Alert. The seller, Hariri Interests, had owned the skyscraper since 1981, according to Yardi Matrix data. Also included in the deal was an adjacent property, the 407,000-square-foot Chase Center.
The 75-story JPMorgan Chase Tower is situated at 600 Travis St., in the heart of downtown. Built in 1981, the Class A office property was designed by the late famed architect I.M. Pei. Hariri Interests purchased the property in 1985 through its investment vehicle Prime Asset Management in a joint venture with Hines and later acquired full ownership. Formerly known as the Texas Commerce Center, the LEED Gold building houses tenants including Merrill Lynch, Willkie Farr & Gallagher, KeyBank and the Buzbee Law Firm. JPMorgan Chase moved its offices from the building more than a decade ago.
The property has 22,000 square feet of underground retail and tenant amenities including a fitness center and 1,657 parking spaces. In 2008, the building's façade was damaged during Hurricane Ike, when hundreds of windows blew out and littered the streets below with glass and tangled window blinds.
Hines declined to comment and a spokesperson for Cerberus did not respond to a request for comment.
The Houston office market has been experiencing strong market fundamentals over the past year, with 18,600 office jobs added from March 2018 to February 2019, according to a recent Yardi Matrix report. Traditionally a strong energy market, the biggest city in Texas has been diversifying its economy and growing its tech, innovation and health-care sectors.