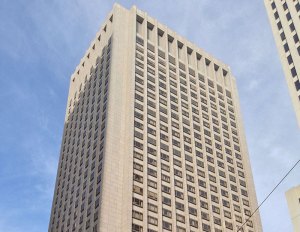 A fund affiliated with Hines has agreed to buy PG&E Corp.'s longtime headquarters in San Francisco's Financial District for $800 million, making a splash in the city's beleaguered office market as the utility giant prepares to trim costs by shifting its operations to Oakland.
PG&E Corp., parent company of energy firm Pacific Gas and Electric Co., announced plans to sell the 1.4 million-square-foot property to Hines Atlas US LP, a Delaware limited partnership. Located a few blocks southwest of the waterfront and within two blocks of the Salesforce Transit Center, the complex consists of two adjacent office buildings, 77 Beale St. and 245 Market St.
---
READ ALSO: Phase 3 Real Estate Acquires San Mateo Office for $168M
---
PG&E announced last June that it would move its headquarters to a new site at 300 Lakeside Drive in Oakland starting in 2022. The NYSE-listed firm said it would relocate in phases and complete the move in 2023.
The closing of the San Francisco sale depends on regulatory approval of PG&E's proposal to return the net gain realized from the sale to its customers. PG&E said it is seeking approval from the California Public Utilities Commission to distribute around $390 million to $420 million over a five-year period to offset future customer rates.
CBRE's San Francisco Capital Markets team served as the exclusive listing broker to PG&E. The proposed sale comes shortly after a major acquisition by another Hines-affiliated entity. Hines Global Income Trust Inc., a public, non-listed REIT, snapped up 1015 Half Street, a trophy office asset spanning 396,000 square feet in Washington, D.C. The Houston-based real estate investment firm oversees a roughly $160.9 billion portfolio of assets under management.
Crossing the Bay
The San Francisco complex dates back to the early 1920s, when the 17-story building at 245 Market St. was constructed, along with a 16-story building at 215 Market St. PG&E purchased 215 Market as well as a seven-story annex and a three-story parking garage behind it in 1972, and joined the two Market Street high-rises during a seismic retrofit in 1995.
The 34-story building at 77 Beale St. was completed in 1971. Located above the Embarcadero BART/Muni Station and near the historic Ferry Building, the campus has received LEED Gold and Energy Star certification under PG&E's ownership.
PG&E, which filed for bankruptcy in 2019, noted in a statement that the new Oakland headquarters is expected to bring "substantially lower" costs over the long term. The site uses space more efficiently and offers more flexibility in its layout and density while promoting workplace health and safety, the company added.
Located about 20 minutes east of the current San Francisco site, the property will also offer shorter commutes for employees, most of whom live in the East Bay region. Bay Area developer TMG Partners acquired the asset last October, signing a long-term lease with PG&E alongside the deal. The lease contract also includes a purchasing option for the energy firm.
Signs of life
San Francisco's office market continues to struggle as most white-collar employees remain at home. The city saw its fifth consecutive quarter of occupancy losses in the first quarter, CBRE reported, with vacancy and availability rates rising to 19.7 percent and 25.7 percent, respectively.
The brokerage added that nearly all the top office occupiers in the region were laying plans to return to the workplace, a sign that the market may be set for a rebound. Notable sales during the first quarter included Harvest Properties' acquisition of 360 Spear St., a 173,907-square-foot mixed-use property, for $165.5 million. Madison Capital and PGIM Real Estate sold the asset, which is located a few blocks southeast of the PG&E complex.
More recently, a partnership between Harvest Properties and Cerberus Capital Management sold DC Station, a 383,123-square-foot office building in Daly City, to Phase 3 Real Estate Partners. The property, including an adjacent parking garage, changed hands for $168 million.