By Keith Loria, Contributing Editor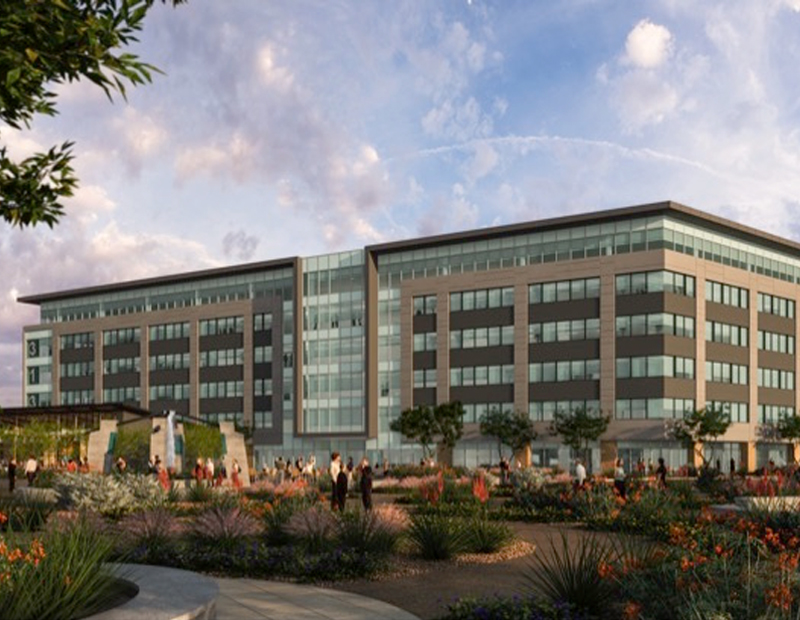 A joint venture between Hines and New York Life Real Estate Investors has started construction of the Offices at Chandler Viridian, a six-story, Class A office building located at the intersection of Loop 101 and Loop 202 in the Phoenix submarket of Chandler, Ariz. The project is expected to become the tallest multi-tenant office building in the area.
"The Offices at Chandler Viridian is a beautifully designed Class A building with high functionality, large efficient floor plates, a building conference center, a tenant lounge, and large courtyard with WiFi and charging stations for electronics," Chris Anderson, Hines' managing director and Arizona leader, told Commercial Property Executive. "The Greater Phoenix job market continues to add high quality jobs quarter-over-quarter, which continues to push the vacancy rate down and rental rates up that makes developing this Project very appealing now. We believe the Phoenix market stabilized in 2016 and is now expanding at a measurable and sustainable pace."
Stantec to become the building's first tenant
Hines also announced that Stantec, an architectural, engineering, planning and environmental services company, will become the building's first tenant when it creates a Southwest regional office, taking 55,000 square feet in the 250,000-square-foot building.
Stantec will combine four regional offices to bring together more than 250 specialists and will occupy approximately 22 percent of the building. The company is expected to take tenancy in January of 2019.
"Currently, there are only a few true Class A office developments in the Chandler submarket and they have very minimal vacancy," Anderson said. "Employers want to locate in areas where access to a highly-educated workforce is within a short commute. Those highly sought after employees are demanding access to walkable amenities, fitness options, and the latest building technology. The Offices at Chandler Viridian offers all of this, which is why our anchor tenant, Stantec Architecture and Engineering selected our building."
The office building will feature a large, open floor plan with 10-foot tall ceilings, a lounge and large courtyard.
Master Plan Component
It was three years ago that Hines razed Elevation Chandler, an unfinished structure and local eyesore, and earlier this year the company teamed with New York Life Real Estate Investors on the mixed-use project mixed-use project.
The Offices at Chandler Viridian will be an addition to the 25-acre mixed-use Chandler Viridian master-planned development, which includes a 136-key Cambria Hotel & Suites, Broadstone Fashion Center luxury apartments, numerous other retail offerings and a pedestrian promenade to the Chandler Fashion Center mall.
The master plan also includes a dog park, jogging trail, and an expansive public plaza with high-speed internet and Wi-Fi.
Image courtesy of Hines