By Gail Kalinoski, Contributing Editor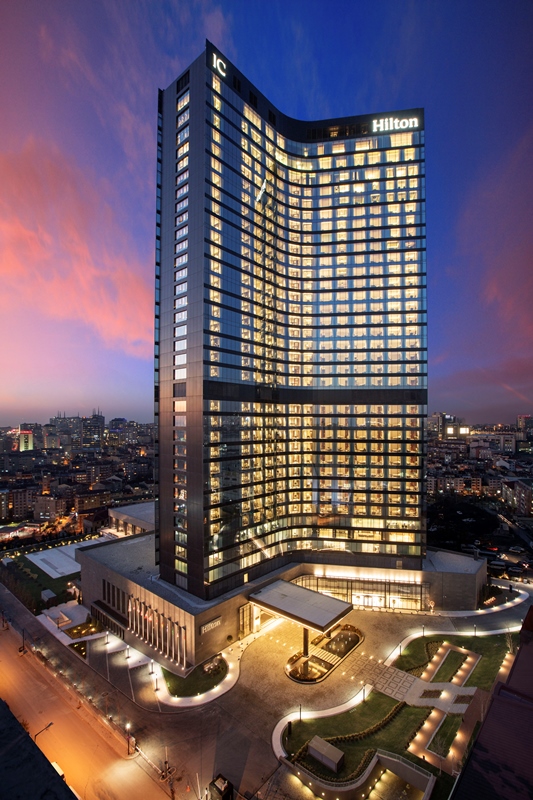 Once word came from private equity firm Blackstone Group in September that it was planning an initial public offering for Hilton Worldwide, anticipation began building. When the dust settled in December, the $2.34 billion Hilton IPO was a record for the hotel industry and the second biggest IPO of 2013.
"I wasn't surprised, given the amount of investor interest," said Lukas Hartwich, an analyst who covers the hospitality industry for real estate research firm Green Street Advisors. "It was bigger than Twitter. It was a big deal. There was a lot of demand."
Reasons for the demand range from a hot IPO market to Hilton being a private company for several years. Other factors were improving conditions in the hospitality industry, Hilton's global growth over the past several years, positive reactions to president & CEO Chris Nassetta's changes and an increasing focus on branding and franchising, according to Hartwich and other hotel experts.
"Hilton was a hot IPO because it was one of the largest hotel companies that wasn't publicly traded already. The hotel sector has been doing quite well in the market," Tom Baker, a managing director at international real estate advisory firm Savills L.L.C., told Commercial Property Executive. "There was pent-up demand for the Hilton product."
Hilton, based in McLean, Va., priced the Dec. 12 IPO at $20 per common share. By the end of its first day of trading on the New York Stock Exchange, the shares had closed at $21.50, up 7.5 percent. Since Dec. 12, shares of HLT have generally remained in the $21 to $22 per share range. The hotel chain, which had been private since the Blackstone takeover nearly seven years ago, said it planned to use net proceeds from the offering and available cash to repay approximately $1.25 billion in debt.
Blackstone still owns nearly 80 percent of Hilton and does not plan to sell its shares for three to five years, Hartwich said. The New York-based private equity firm paid $26 billion for the hotel chain in 2007, but it also took on huge debt in the transaction, which occurred just before the recession hit the hotel industry hard. The Washington Post reported the debtload for Hilton was $20 billion, which Blackstone brought down to about $13 billion and should lower again with proceeds from the IPO.
"Blackstone has exercised tremendous patience and remained disciplined in terms of dealing with the debt that they took on," Baker noted. "But they've got cash flow to cover it."
Founded in 1919 by Conrad Hilton, the company now has more than 4,000 properties with nearly 700,000 guest rooms in 90 countries. It has 10 brands, ranging from the upper-midscale Hampton Inn and Home 2 Suites to the luxury Waldorf-Astoria and Conrad brands. Other popular brands are Embassy Suites, DoubleTree, Hilton Garden Inn, Homewood Suites and Hilton. It also owns timeshare company Hilton Grand Vacations.
"Those are some of the strongest brands in our business," Baker said. "Considering they are all part of one stable, I think it's extremely attractive to the investors."
Hartwich told CPE investors were impressed by Nassetta's stewardship of Hilton. Nassetta, the former president & CEO of Host Hotels & Resorts, was tapped by Blackstone soon after the acquisition closed in late 2007 to take over Hilton. Nassetta began cutting expenses. He also began focusing on international markets. The year before Blackstone bought Hilton, the U.S. operations and international business, which had been separated 40 years earlier, were reunited as one company.
"This crucial step allows the company to hit the accelerator on growing its international presence," Hartwich wrote in an investors note.
Hartwich told CPE that prior to the Blackstone leveraged buyout, Hilton was not maximizing its potential overseas. In China, the company had less than 10 hotels even though it was one of the first international hotel brands to enter the country. Now it has more than 170 open or in development across its various brands.
On Dec. 31, Hilton Hotels & Resorts and Hilton Worldwide announced the opening of the Hilton Wuhan Optics Valley, the first Hilton Hotels & Resorts property in the Hubei Province. The hotel has 520 guest rooms and suites, five restaurants and bars, and meeting space. Meanwhile, the company has been growing in Europe and the Middle East. On Jan. 6, Hilton Istanbul Bomonti Hotel & Conference Center, Istanbul's largest hotel, opened with 829 guest rooms and suites, meeting space and Turkey's first eforea: spa at a Hilton facility. It is one of 24 Hilton Worldwide-branded hotels in Turkey.
Baker noted that since Blackstone bought Hilton, the company's room count has grown by more than 36 percent and its development pipeline by more than 60 percent. "Those are remarkable statistics, considering that the company wasn't able to tap the public markets. It was responsible for all that growth as an organization in house," Baker said. "I think the management of Hilton did a remarkable job of staying focused on the business of running the business."
Hilton stated in a filing with the U.S. Securities and Exchange Commission that approximately 78 percent of its system-wide hotel rooms were in the
U.S. as of Sept. 30, but that was expected to change as it opens more of the international hotels in its pipeline. The SEC filing stated that as of Sept. 30, Hilton had a total of 1,069 hotels in its development pipeline, under construction or approved for development throughout 71 countries.
Hartwich said Nassetta also began pushing the "asset light" management and franchise concept. Hilton was able to grow faster by franchising its brands to third-party owners. Competitors Starwood Hotels & Resorts Worldwide Inc. and Marriott International have also been focusing on the asset light model, while Hyatt Hotels and Resorts continues to invest in real estate, Hartwich noted. Baker added that InterContinental Hotels Group also uses the franchise concept, particularly for its Holiday Inn brands.
Between June 30, 2007, and Sept. 30, 2013, Hilton added a net 1,182 managed and franchised hotels to its system and 172,748 rooms. Of those, 29.1 percent of the rooms were located outside the U.S. Nearly all the hotels in its pipeline as of Sept. 30 were in its management and franchise segment, with only one development project in its ownership segment.
Baker and his Savills colleague, executive managing director Marc Magazine, pointed to an ongoing recovery in the hospitality industry as another driver for the successful Hilton IPO. "In the overall industry outlook, most experts feel the room demand for 2014 and 2015 should grow over 5 percent a year, probably in the 5 to 6 percent range," Magazine said. "Actual inventory growth nationwide won't grow more than 1 percent. That will add pressure for the ability of room rates to go up and RevPAR to go up."
Magazine added that the hotel recovery is strongest so far in New York City, followed by Washington, D.C. New York City should see an 8 to 9 percent increase in new hotel inventory this year, while Washington, D.C., is expected to have about 3 to 4 percent growth in new construction. He also noted that those were the first two cities where lenders were ready to finance hotel properties again. Hilton brands are well represented in both cities, including the iconic Waldorf Astoria in Manhattan.
"The rest of the country is going to follow," Magazine said.
He said he also expects interest rates to remain low for 2014 and possibly 2015, another good sign for the hospitality industry and another possible reason for the strong Hilton IPO. "2014 should be an attractive time to buy (hospitality properties)."
It is also likely to be a good time for Blackstone to take another of its hotel companies public. Just weeks after its record-breaking Hilton IPO, Blackstone's La Quinta Holdings revealed it had begun the process with the SEC. LaQuinta has more than 80,000 rooms in 800 hotels that operate under the La Quinta Inn and La Quinta Inns & Suites brands. Blackstone acquired Dallas-based La Quinta in 2006 for approximately $3 billion. In November, Blackstone and two partners raised $565 million in an IPO for Extended Stay America Inc., which they had bought out of bankruptcy.