By Barbra Murray, Contributing Editor
Very much in a growth mode, Hilton Garden Inn completes another round of openings, introducing four new hotels with a focus on coveted amenities. The new lodging destinations, with opening dates in May and June, add more than 600 guestrooms to the brand's rapidly expanding portfolio.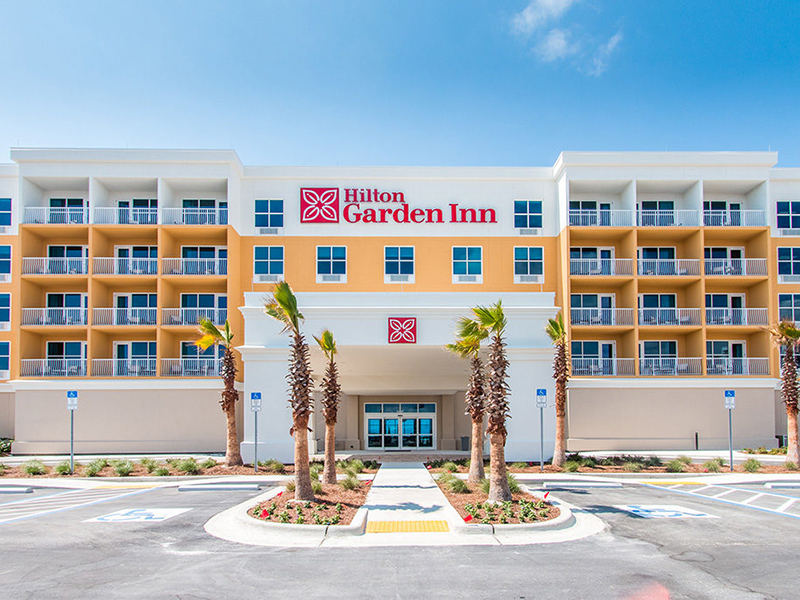 Hilton Garden Inn, established by global hospitality company Hilton Worldwide in the 1990s, falls in the upscale yet affordable brand category. The brand's identity centers on accommodating guests' desire to explore and connect while on the road—and highly desirable amenities, both brand- and location-specific, play a big role in the experience. "At Hilton Garden Inn, we are committed to providing guests with upscale amenities and attentive service that ensures a bright and satisfying experience, whether traveling for business or pleasure," John Greenleaf, global head, Hilton Garden Inn, said in a prepared statement.
Each of the four new hotels has something special to offer. In Florida, the 178-key Hilton Garden Inn Fort Walton Beach made its debut on Okaloosa Island. In addition to views of the Gulf of Mexico from its beachfront position, the property offers a lazy river with rock waterfalls. The 144-key Hilton Garden Inn Grand Rapids East features, for starters, a pool in the shape of the State of Michigan. Hilton Garden Inn Pittsburgh Airport, encompassing 139 guestrooms just a half-mile from Robert Morris University in Moon Township, Pa., offers an outdoor fire pit among its list of enticements. The 165-key Hilton Garden Inn Roslyn, sited in the Long Island harbor area, offers a premier waterfront location just east of New York City, as well as the long list of amenities that come standard with the Hilton Garden Inn brand, including:  in-room Keurig coffeemakers; 24-hour fitness facility; cooked-to-order breakfast, lunch and dinner; full-service bar; 24-hour business center; swimming pool; and flexible meeting spaces.
THE LITTLE EXTRAS CAN MAKE A BIG DIFFERENCE
In a sea of brands, old and new, unique amenities can prove vital to success. "Hotel brands need to offer recognizable physical facilities and deliberate service levels, at the same time, more and more guests are anticipating hotels to offer special experiences that reflect the destination and a guest's particular interests," according to a first quarter 2017 lodging report by commercial real estate services firm Cushman & Wakefield. "Hotels are expanding their amenities both in type of services and in their branding. Guests want to have it their way, but better."
Image courtesy of Hilton Garden Inn