By Adriana Pop, Associate Editor
Kapaa, Hawaii–Hilton Worldwide has announced the opening of its first Hilton Garden Inn hotel in the Aloha State.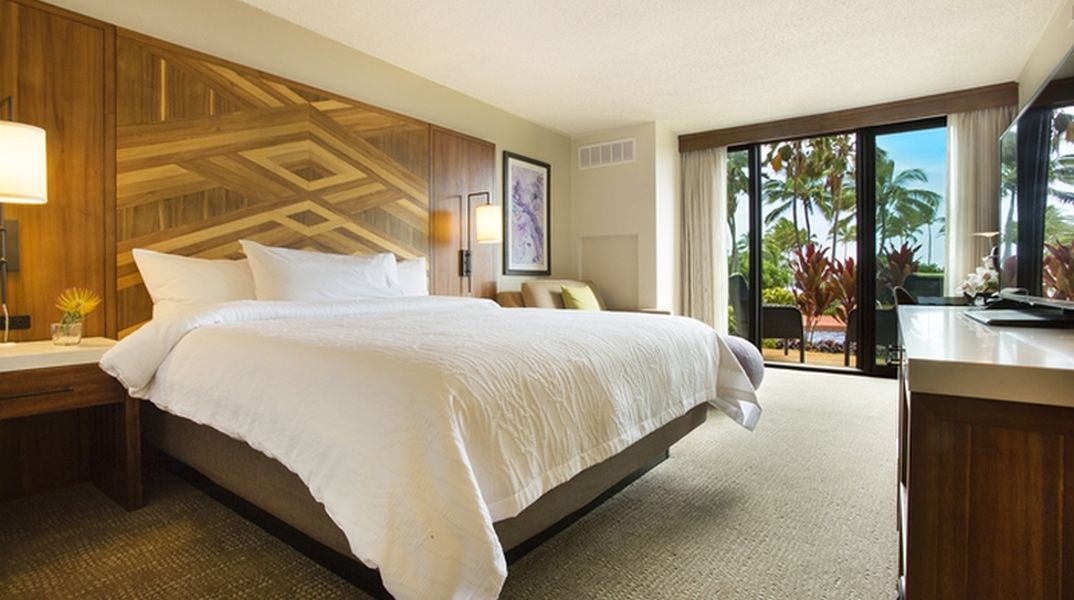 Located near Kauai's Wailua Bay, the 216-key beachfront resort is owned by Aloha Beach Hotel Partners LLC, an entity led by California-based DiNapoli Capital Partners, and managed by Aqua-Aston Hospitality.
Hilton Garden Inn Kauai Wailua Bay, which adds to the brand's more than 665 hotels worldwide, is a conversion of the former Aston Aloha Beach Hotel in Kapaa. The Aloha Beach partnership purchased the property for $4.8 million in August 2014. The land is owned by the state Department of Hawaiian Home Lands.
The new hotel is situated on 3-5920 Kuhio Highway, where the famous Wailua River meets the Pacific Ocean. Nearby attractions include Lydgate Beach Park, one of the area's only lifeguarded, swimmable beaches; Smiths Tropical Paradise Garden Luau; Coconut Marketplace and Pono Market. Guests also have easy access to Wailua River Bay, Wailua and Opaekaa Falls, Wailua Golf Course, Lihue Airport, Fern Grotto and the Nounou 'Sleeping Giant' hiking trail.
The resort offers more than 7,460 square feet of flexible meeting space and an on-site gazebo; complimentary Wi-Fi and a 24-hour business center with remote printing; a fitness center; two outdoor pools, a whirlpool and a playground near the Ke Ala Hele Makalae walking and biking path that hugs the eastern coastline. Bicycle rentals, fishing excursions, sailing, sightseeing tours and snorkeling are available for an additional fee. Guests here can also enjoy an open-air lobby; the brand's signature Garden Grille and Bar or the Pavilion Pantry, which is open 24 hours and offers snacks, cold beverages and microwaveable packaged items.
"This opening marks a significant milestone as we introduce our brand to Hawaii and round out our presence in all 50 states, while also bringing Hilton Worldwide back to this beautiful island, making our new Hilton Garden Inn the only Hilton Worldwide property on Kauai," John Greenleaf, global head, Hilton Garden Inn, said in prepared remarks.
The brand's next hotel in Hawaii will open on Oahu later this year. The new 623-key Hilton Garden Inn Waikiki is a conversion of the former Ohana Waikiki West in Honolulu.
Image courtesy of Hilton Garden Inn Kauai Wailua Bay