By Gail Kalinoski, Contributing Editor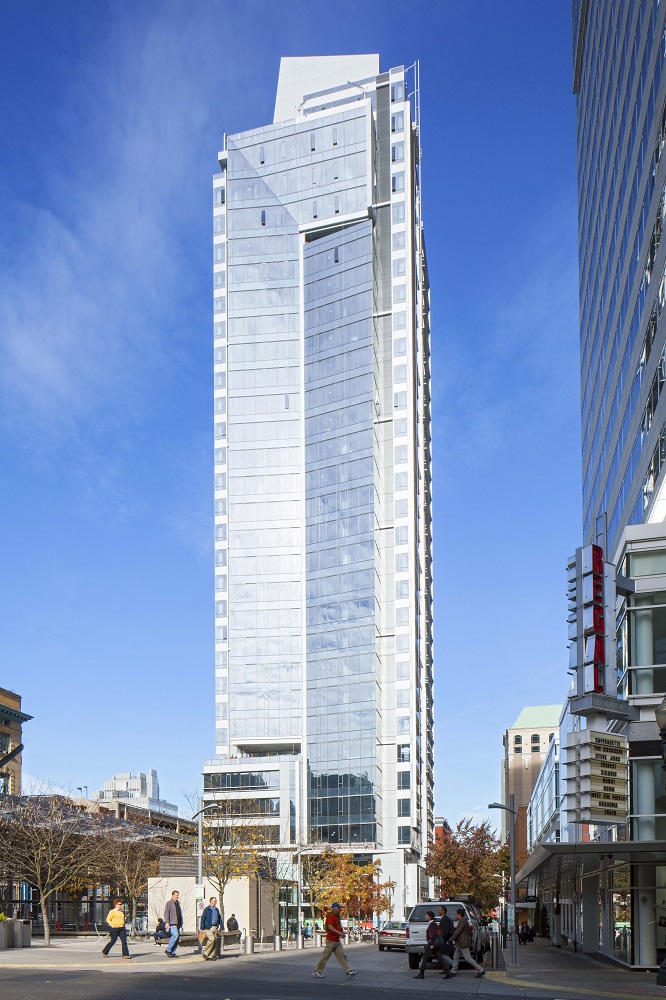 Portland, Ore.—Construction has been completed on Portland's newest tower, Park Avenue West, and tenants are beginning to move in to the 30-story downtown mixed-use project just as the developers secure $130 million in permanent financing with the help of HFF.
The HFF debt placement team, led by Managing Director Casey Davidson, arranged the 20-year, fixed-rate, non-recourse loan through MetLife for the developer, TMT Development Company Inc., a family-owned Portland firm. Loan proceeds will be used to pay off the existing construction loan, $118 million in financing obtained in October 2013 through PCCP LLC, a California-based real estate firm. HFF assisted in securing the financing in the fall of 2013 to help jumpstart the project that had been stopped in April 2009 when financing dried up during the height of the recession.
Davidson could not disclose the rate on the new loan, but did tell Commercial Property Executive that the loan was "fully funded at certificate of occupancy prior to stabilization."
Located in HFF's Portland office, Davidson has been involved in Park Avenue West for eight years as it started, then stopped during the recession.
"There is huge satisfaction in seeing this to completion," he told CPE. "TMT and HFF have worked as a true team to make sure Park Avenue West evolved to what it is today."
The 391,795-square-foot, mixed-use tower is in the heart of downtown Portland on Southwest Park Avenue between Southwest Yamhill and Morrison streets across from Nordstrom. The LEED Platinum-certified tower is built upon a six-story subgrade parking garage. It has 24,233 square feet of first- and second-floor retail; 202 residential units totaling 173,648 square feet on floors three through 17; and 193,914 square feet of Class A office space on floors 18 through 30.
The office space is 92 percent leased to tenants including Stoel Rives, the city's oldest and largest law firm, which is taking nine floors with an option for a 10th. Washington Trust Bank, Morgan Stanley and Charles Schwab will also be office tenants. The Portland Business Journal reports Stoel Rives will move into its offices in May while Morgan Stanley takes over its new space in March and Washington Trust in September.
Residents have started moving into some of the units, the business newspaper stated. The residential component has a mix of studio, one- and two-bedroom floor plans. Amenities include a private lobby; lounges with indoor and outdoor gathering spaces, including a terrace with fireplace and grilling stations overlooking Director Park; electric car charging stations and a fitness center.
TMT Development President & CEO Vanessa Sturgeon told the Portland Business Journal that about half of the retail space has been leased but she could not release tenant names.
Construction began on the tower in 2007 by TMT Development, a leader in sustainable, eco-friendly commercial properties in Oregon and Washington. Founded by Sturgeon's grandfather, the late Thomas Moyer, the firm has built and managed numerous high-profile projects in Portland, including the 27-story Fox Tower, which is LEED Gold-certified. When Park Avenue West resumed construction in late 2013, it was downsized a bit. It was originally planned to be 33 stories including condominiums. TVA Architects was the designer of both the original and current versions of the tower. Hoffman Construction was the contractor.
HFF, a leading provider of commercial real estate and capital markets services, has 22 offices across the United States. Last month, HFF Inc., which owns both HFF and investment banking arm HFF Securities LP, announced 2015 was a banner year with its highest transaction volume, approximately $76.3 billion, and number of transactions with just under 2,200 across its debt placement, investment sales, equity placement and loan sales capital market platforms.