By Barbra Murray, Contributing Editor
HFF proves that age is just a number as it lands $69.5 million in financing the century-old Medical Dental Building in Seattle. The commercial real estate and capital markets services provider orchestrated the deal on behalf Goodman Real Estate Inc., owner of the 294,300-square-foot medical office building.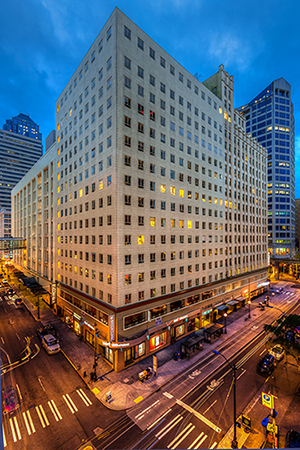 Age may not be valued in society, but it can be in real estate. Developed in two phases, with the first phase reaching completion in 1925 and the second phase sprouting up in 1950, Medical Dental boasts a spot on the National Register of Historic Places. Whether the asset's status was considered a plus or no, lenders responded well to the opportunity to provide financing.
"We marketed to both securitized and portfolio lenders but ended up with a portfolio lender that could provide a 20-year loan term as this is long-term hold for the sponsor," Casey Davidson, managing director with HFF, told Commercial Property Executive. It was AXA Equitable Life Insurance Co. that provided the fixed-rate loan through its advisor, Quadrant Real Estate Advisors.
Located at 509 Olive Way in downtown Seattle, Medical Dental is a unique MOB, and not just because of its historic status or the fact that it was originally built as an MOB so long ago and continues to serve as one. The 18-story tower is 97 percent leased to a roster of 150 tenants, most of whom have passed the space down from generation to generation. The property also features 12,600 square feet of ground-level retail space occupied by a pharmacy. And over the years, the building has been kept in tiptop shape; it was last updated in 2008 to the tune of $25 million.
Medical Dental caught the eye of lenders for more than a few reasons.
"The property could not be in a more ideal location; it is next door to Nordstrom, has its own bus stop at the front door and is one block from Amazon's three-block corporate expansion and other downtown core amenities," Davidson added. "Additional attributes include a Best of Class Sponsor in Goodman Real Estate and the unique 'sticky' tenant base of smaller family medical practices that transfer down generations and rarely leave."