By Gail Kalinoski, Contributing Editor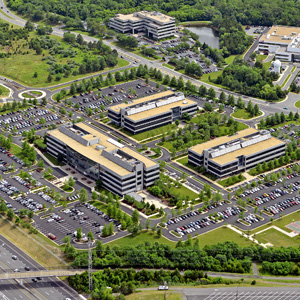 Orbital Sciences Corp., a satellite manufacturer, has a new landlord at its global headquarters in northern Virginia. Select Income REIT has bought the Orbital Sciences Campus, a three-building Class A office campus in Sterling, Va., for $85.6 million.
HFF marketed the property on behalf of the seller, a fund advised by Prudential Real Estate Investors.
The 333,228-square-foot complex is located at Warp Drive and Route 28 North in Loudoun County, about four miles north of Washington Dulles International Airport and 29 miles northwest of Washington, D.C. The 11-year-old office complex is fully leased on a long-term basis to Orbital, which develops and manufactures small- and medium-class rockets and space systems. Its main products are satellites and launch vehicles, many of which are sold to the U.S. government.
Newton, Mass.-based Select Income REIT, a wholly owned subsidiary of CommonWealth REIT, primarily owns properties that are net-leased to single tenants. As of Sept. 30, SIR owned 260 properties with a total of nearly 24 million square feet. About half of its rental income comes from land SIR owns in Hawaii that is leased to long-term tenants that own and operate their businesses on SIR property. It also owns properties in about 17 other states, including three in California and two each in Texas, Alabama, and Iowa. The REIT, which went public in March, this week is wrapping up a public offering of 7 million shares that was expected to raise at least $177 million and be used to pay off debt.
Since July, SIR has acquired seven other properties with a total of nearly 2 million square feet, spending $156.3 million, including the assumption of $26 million of mortgage debt and closing costs, according to its third-quarter filing with the U.S. Securities and Exchange Commission. Three properties were acquired in July – two net-leased office and industrial properties with a total of 268,328 square feet in Windsor, Conn., and a 143,934-square-foot net-leased office property in Topeka, Kan. The REIT picked up a net-leased industrial property with 1.37 million square feet of space in Huntsville, Ala., in August. One month later, SIR purchased two net-leased office properties in Carlsbad, Calif., with a total 95,000 square feet and a net-leased office building with 110,882 square feet of space in Chelmsford, Mass.
The seller of the Orbital campus, PREI, has been active in recent weeks. In late November, it sold two Tampa, Fla., Class A office buildings with a total of 494,813 square feet to Parmenter Realty Partners for $85 million. A month earlier, it started construction on a luxury apartment and retail community in Atlanta with Greystar.
For the sale of the Orbital Sciences Campus, the HFF team was represented by Executive Managing Director Stephen Conley, senior managing directors Jim Meisel, Dek Potts and Andrew Weir, and senior real estate analyst Matt Nicholson.
HFF, a provider of commercial real estate and capital markets services, has also been busy as the year winds down. This week alone, the firm closed several big deals including the sale of the Lightwave Corporate Center in San Diego to an unidentified buyer. HFF jointly marketed the 166,892-square-foot data center and office property with CBRE for the seller, LBA Realty.
It also closed on the sale of Ormond Beach Mall, a 102,170-square-foot grocery-anchored neighborhood center in Ormond Beach, Fla. HFF represented the owner, Odyssey IX DB II, L.L.C., in the sale to Stiles Corp. of Fort Lauderdale, Fla. In Chicago, HFF marketed the sale of 231 South LaSalle, a 1.03-million-square-foot office and retail building for Gramercy Capital Corp. and Garrison Investment Group. Berkeley Properties paid $97 million for the historic property. Also this week, HFF closed on the sale of The Aventine of Alexandria, a 574-unit, 15-story multi-family community in Alexandria, Va. HFF represented the seller, a client advised by Invesco Real Estate, which sold the property to Partners Group and an affiliate of Bainbridge Companies, L.L.C.
Like us on facebook: https://www.facebook.com/pages/Commercial-Property-Executive/258033884191