By Gail Kalinoski, Contributing Editor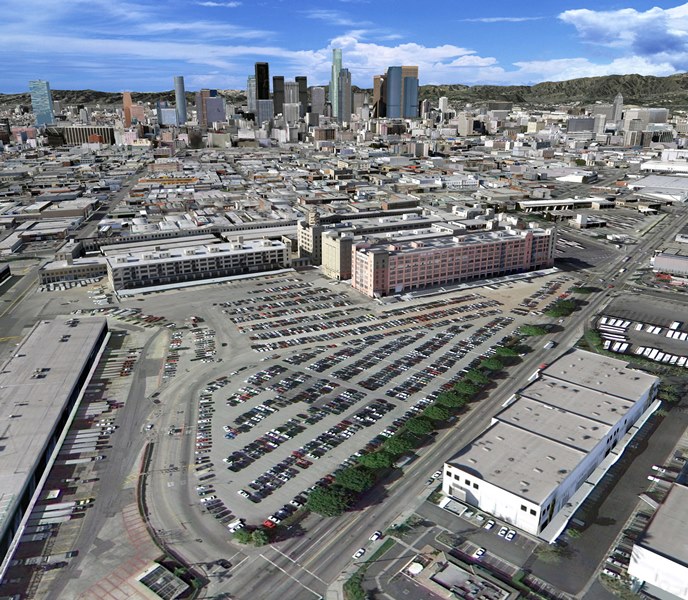 The owners of Alameda Square, an industrial and creative office campus with more than 1.6 million square feet in downtown Los Angeles, have secured a $78 million refinancing and will use part of it for renovations for new tenants.
"We are excited to complete this transaction as we continue to renovate and build this premier fashion apparel and creative office campus in Southern California," Martin Caverly, CEO of property owner EVOQ Properties Inc., said in a news release.
HFF represented the borrower, a subsidiary of EVOQ Properties, to secure the three-year adjustable rate loan through Olen Properties, a Newport Beach, Calif.-based commercial real estate developer and institutional investor. The loan will be used to refinance the first and second lien mortgages. Paul Brindley, HFF senior managing director, said the 7th Street Produce Market, which is part of the property, and Alameda Square campus, served as collateral.
Brindley and senior real estate analyst Jeff Sause led the HFF team on the refinancing deal.
Asked why HFF used Olen Properties rather than a more traditional lender, Brindley told Commercial Property Executive that the complex nature of the property was one of the main reasons.
"There are a lot of small tenants that have been there a long time. Then they have American Apparel on the other side and creative office space. There's garment manufacturing and the produce market. It's not the simplest of deals. It's not a traditional kind of underwriting," he said.
The Alameda Square campus is located at 7th and Alameda in downtown Los Angeles. It is comprised of four buildings in about 1.4 million square feet with creative office, retail and light manufacturing space next to the 7th Street Produce Market and a wholesale market with more than 200,000 square feet of industrial space. The 32-acre campus is near the city's arts and fashion districts and has become home to a number of fashion companies including American Apparel, which has grown from approximately 7,000 square feet at the site to about 700,000, according to Brindley.
The new loan will also be providing capital for tenant improvement and leasing costs for two subsidiaries of VF Contemporary Brands – Splendid and Ella Moss. In October, EVOQ announced that the two contemporary fashion brands were moving their corporate headquarters and about 200 workers to Alameda Square. The brands will be sharing 82,000 square feet at Building 1, 777 Alameda, under a 10-year lease.
Another fashion company, Groceries Apparel, signed a five-year lease for 33,000 square feet at Building 2, 767 Alameda, in November. The company, which is based in Los Angeles and makes all its products from organic and recycled materials, said at the time of leasing that it expected to double its workforce to 60 and triple its output in the new space.
EVOQ Properties is one of the largest property owners in downtown Los Angeles with holdings in industrial, office, retail, residential and mixed-use real estate. Formerly known as Meruelo Maddux Properties Inc., the company filed for Chapter 11 reorganization in 2009. Eventually the company's founders, Richard Meruelo and John Maddux, were ousted and a new team came on board with Caverly as CEO.
Since Caverly and the new leadership took over, they have been disposing of non-core assets and trying to reduce the debt load the previous owners had incurred as they refocus their efforts on downtown Los Angeles.
"We believe our focus on our core assets in downtown Los Angeles will bring long-term value not only to our company, but to the development of those neighborhoods into a stronger community," Caverly said in a late January news release when he announced the sale of three non-core assets, which included vacant lots and industrial buildings in Los Angeles.
Like us on facebook: https://www.facebook.com/pages/Commercial-Property-Executive/258033884191