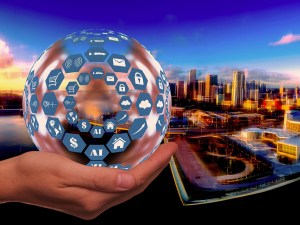 While the overall jobs market experienced quite a rough ride in 2020 due to the consequences of the COVID-19 health crisis, tech employment remained strong, according to CBRE's ninth annual Scoring Tech Talent report.
---
READ ALSO: CPE Presents the 2021 Stars to Watch
---
The study examined 50 of the largest North American markets based on the number of professionals in 20 key technology roles and compared them using 13 different criteria that make markets attractive for companies to do business in and desirable for tech personnel to live in. The San Francisco Bay Area remained on top of CBRE's ranking. Seattle and Washington, D.C., previously third and second, placed second and third.
The survival of tech talent roles during 2020 was, for the most part, need-based. "Tech talent occupations were resilient since the onset of the pandemic as businesses and society became more dependent on technology and tech talent that create and maintain these vital products and services," Colin Yasukochi, executive director of CBRE's Tech Insights Center & author of the Scoring Tech Talent report, told Commercial Property Executive.
Tech jobs across all industries in the U.S. recorded job growth of 0.8 percent in 2020, compared to non-tech occupations, which recorded job losses amounting to 5.5 percent. Software engineers ranked highest as the most in-demand tech job, adding 85,000 jobs in the U.S., which translated to a 4.8 percent year-over-year growth rate.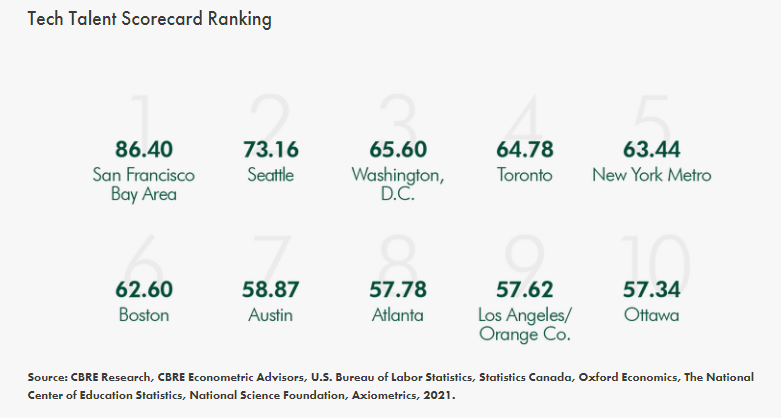 In terms of where the tech jobs are, they're still in the San Francisco Bay Area, which remained the top overall North American tech market for the ninth consecutive year. Seattle rose from the third position to the second spot, switching rankings with Washington, D.C.
"Seattle showed very strong tech talent job growth due to increased demand for e-commerce and software products and services, which has resulted in strong demand for office, residential and industrial real estate," Yasukochi said.
Toronto held steady at No. 4. "Canada once again ranked high in the report for job growth and represented the best value for quality talent vs. cost. In fact, Canada had eight of the 10 lowest cost markets to operate a tech firm in, mostly due to lower wages," he added. Metro New York rounds out the top five for another year.
The Greater Los Angeles/Orange County area, however, made quite a showing in 2020, shooting up in the rankings from No. 17 last year to make it safely into the top 10.
Yasukochi explained, "The sharp rise in the ranking in the Greater Los Angeles/Orange County market, up eight spots to No. 9, is based predominantly on tech and media firms growing in the region and a large number of tech degree graduates from local universities."
The survey also offered a glimpse of 25 emerging markets. Dayton, Ohio, is on top of future leading tech talent markets, followed by Huntsville, Ala., and Colorado Springs, Colo. Omaha, Neb., and Des Moines, Iowa.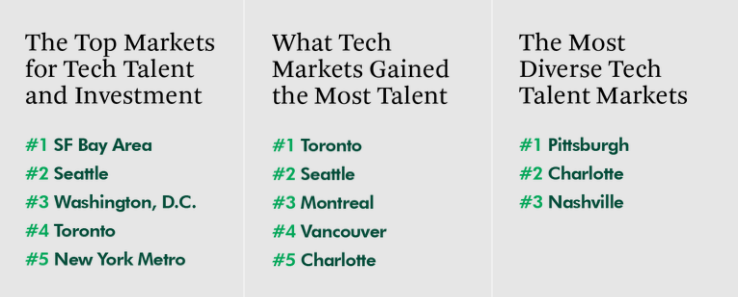 This year, CBRE added a new element to its Scoring Tech Talent report by taking a closer look at the faces behind the talent. "We analyzed diversity of the tech workforce for the first time and found that it was predominantly White, Asian and male. Hispanic, Black and other non-White/non-Asian and females were underrepresented, Yasukochi noted.
The real estate of it all
In the report, CBRE analyzes the cost of real estate and wages in various markets and identifies the most expensive areas—as well as more cost-effective locations—in terms of cost vs. labor quality. Using a 500-person tech firm with a leased space of 75,000 square feet as a model, the San Francisco Bay area would be the most expensive market at $69 million a year in total labor and real estate expenses. Alternatively, the Waterloo region in Ontario, Canada, would be the least expensive of the top 50 markets in North America at a combined annual labor and real estate cost of $31.4 million.
New York has the most expensive office asking rent at $77.25 per square foot, while the least expensive is in Cleveland, where the asking rent is just $18.70 per square foot. "Tech talent employers will go to where the talent is located—markets—and being developed—universities. In those markets where a significant cluster forms, real estate demand for office space and housing has the potential to exceed demand and cause prices to rise and create new development opportunities."
Read the full report by CBRE.