By Barbra Murray, Contributing Editor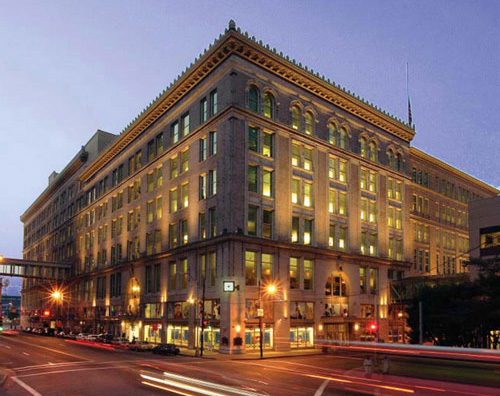 The 558,000-square-foot Penn Avenue Place office tower in Pittsburgh, Pa., has just become a part of Healthcare Trust of America Inc.'s portfolio. The company acquired the asset from an affiliate of Oxford Development Co. in a $54 million transaction.
Commercial real estate and capital markets services provider Holliday Fenoglio Fowler L.P. marketed the property on behalf of Oxford and saw no shortage of potential buyers. "We got a lot of interest, all near where we thought our pricing guidance should be for the asset," Mark Popovich, senior managing director with HFF, told Commercial Property Executive.
Carrying the address of 501 Penn Ave. in the Golden Triangle area of the city's central business district, Penn Avenue Place sits within close proximity to Allegheny General Hospital. The eight-story building first opened its doors 1907 and, in 1997, underwent a substantial renovation. Today the property is 99.6 percent leased, with Highmark Inc. serving as the lead tenant. The healthcare company occupies 92.4 percent of the office space under a lease that was renewed at the beginning of this year.
It's not New York or Washington, D.C., but Pittsburgh is moving higher and higher on office property investors' radar. The market has all the right numbers. The occupancy level in the city closed 2011 at 8.6 percent, approximately 7 percent lower than the national average, according to a report by real estate services firm Pennsylvania Commercial Real Estate Inc. In the fourth quarter, there was nearly 400,000 square feet of positive absorption.
"One thing that people are taking note of is that Pittsburgh never suffered a downturn over these last three years," Popovich explained. "We never had the overbuilding and we didn't lose any companies or have any kind of housing bubble to work through so we didn't have a downturn. As a result, Pittsburgh rose to the top of all the national surveys for all the various product types, whether it's hotel, apartment or office. And I think after seeing several quarters in a row of Pittsburgh always appearing at the top, investors started to take note that it wasn't an anomaly."
In addition to a strong employment base — the city is home to Fortune 500 companies like PNC Financial Services Group and U.S. Steel Corp., as well as major healthcare employers, educational institutions and a blossoming oil and gas industry — Pittsburgh's office market benefits from development constraints. "Here, there is a very limited number of sites and the sites that are here are very difficult to develop, so there are enormous barriers to entry," he noted. "It is another reason why our statistics look so good, because there's just not a lot of new supply coming online."
The purchase of Penn Avenue Place effectively doubled Healthcare Trust's presence in Pittsburgh. The REIT's portfolio now encompasses approximately 1 million square feet in the city.