By Keith Loria, Contributing Editor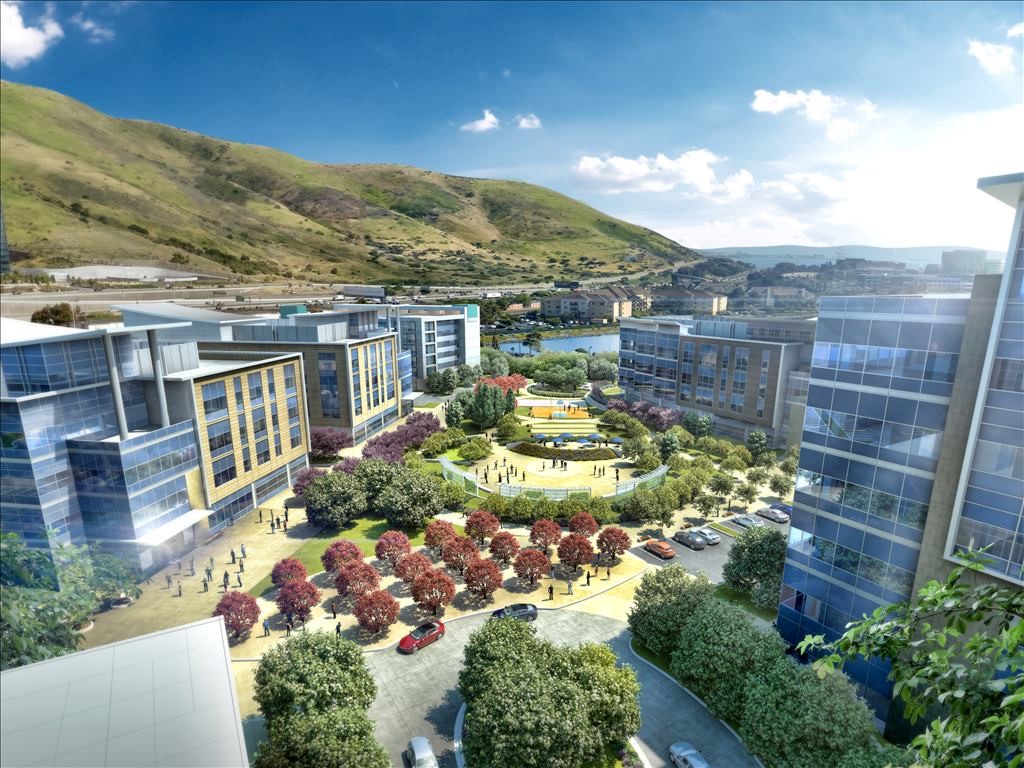 HCP will soon break ground on the second phase of The Cove at Oyster Point, which will bring approximately 230,000 square feet of life science space to South San Francisco.
The development is part of a larger 1 million-square-foot fully integrated, waterfront campus located on Oyster Point Boulevard. The campus design consists of seven buildings ranging in size from 115,000 square feet to 182,000 square feet in both single- and multi-tenant building configurations.
"We are extremely pleased with the progress of the first phase at the Cove, which commenced one year ago," said Jon Bergschneider, HCP's executive vice president of HCP Life Science Estates. "The reception of the project in the marketplace has been exceptional and is validated by the successful leasing of half of the space currently under construction."
The first phase of the project, which began construction in February 2015, consists of two buildings totaling up to 250,000 square feet and is scheduled to be complete in the third quarter of 2016. This second phase of the project will consist of an additional two buildings totaling up to 230,000 square feet, a four-story parking garage, and 20,000 square feet of retail and restaurant space to serve the project and surrounding community. Occupancy of the second phase is targeted for the third quarter of 2017.
"The Cove has set an unparalleled standard of design that caters to life science companies seeking a vibrant workplace in which to innovate and collaborate," Bergschneider said.
The entire development will be pre-certified LEED Silver, featuring 5.5 acres of outdoor green space and a state-of-the-art, 30,000-square-foot amenity center, which will open in the third quarter of 2016, including food service, fitness, meeting space, as well as retail and a future on-site hotel.
CytomX Therapeutics and Denali Therapeutics are among the life science companies that will move into the Cove once complete.
HCP is now the largest life science property owner in the Bay Area with more than 5 million square feet, including more than 3 million square feet in South San Francisco.
According to JLL's most recent Life Sciences Outlook, despite higher rents and labor costs, life sciences firms continue to flock to premier markets, with San Francisco being among the top three.
"The need for specialized talent—often at the PhD level—has historically driven life sciences organizations to markets with reputable colleges and universities, like Boston, Raleigh-Durham and San Francisco," the report said. "These three markets currently lead the pack in our rankings of life sciences clusters."
Data in the report reveals the average rents for life science properties in San Francisco climbed from $31.90 per square foot in 2014 to $37.30 per square foot in 2015.
Jll's Executive Managing Director of Life Sciences, Roger Humphrey, agreed that San Francisco is a hot spot. "San Francisco has firmly established itself as a hotbed of innovation within the Life Sciences market. The area's reputation of innovation, typified by nontraditional office floor plans, flexible research space and adaptive reuse, as well as amenities to improve quality of life for employees, all contribute to the attraction of the Bay Area," Humphrey told CPE. "Another factor that contributes significantly to the burgeoning life science market in San Francisco is the large number of nearby institutions of higher education. They create a strong pipeline of highly skilled talent that has attracted both established pharmaceutical firms and start-ups, which in turn attracts venture capital and National Institute of Health funding."
HCP is a premier owner and developer of life science and office real estate on the West Coast, with a track record of delivering first-class life science campuses in this market since the mid-1990s.