November 29, 2011
By Barbra Murray, Contributing Editor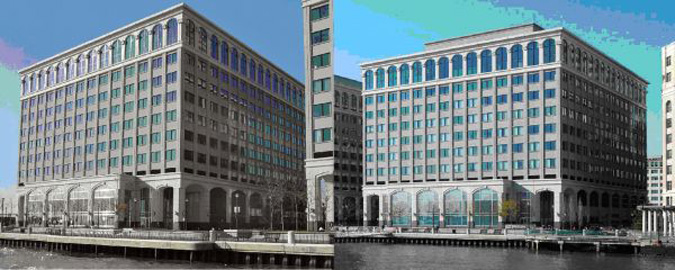 Hartz Mountain Industries has snapped up the one-acre parcel at 99 Hudson in a transaction valued at $35 million. The commercial real estate company took the developable site off the hands of Bank of America Corp., which came into possession of the former parking lot with its $50 billion acquisition of Merrill Lynch & Co. Inc. in 2009.
Located at Colgate Center, an 8 million-square-foot mixed-use master-planned destination, the land sits within close proximity of 70 and 90 Hudson St. (pictured), an 827,000-square-foot two-building complex that Hartz developed over 10 years ago and sold in April of this year for $310 million in what marked New Jersey's highest per square-foot office sale ever. As for Hartz's ideas for the newly purchased 99 Hudson, it remains to be seen if the company will construct another office structure on the site, which Merrill Lynch had once planned to do.
While Hartz is remaining mum on the topic of development for now, it is clear that the company is still keen on the area's potential. "The market questioned whether we had fallen out of love with Colgate Center when we sold 70 and 90 Hudson Street — but quite the contrary, we became more enthusiastic than ever," Emanuel Stern, president and COO of Hartz, said.
The Garden State's office market has not yet made a full recovery, but it appears to be headed in the right direction. As of the close of the third quarter, Northern and Central New Jersey had recorded three straight quarters of positive net absorption, with 1.8 million square feet of absorption in the third quarter alone, according to a report by commercial real estate services firm Grubb & Ellis Co. At the moment, new development projects may be in order–in some areas. "The construction pipeline is anticipated to begin filling again in the Princeton submarket as demand absorbs the supply of existing Class A space," as per the report.