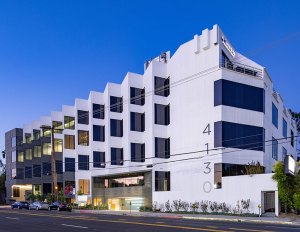 Harbor Associates LLC and The Bascom Group LLC are counting on Hollywood's streaming boom to help fill up 4130 Cahuenga Blvd., a 75,716-square-foot creative office building that the joint venture recently renovated near Universal Studios.
The partners, which picked up the asset for $21.7 million in May 2018, said they have received leasing proposals on more than 35 percent of the three-story building. Harbor is trading letters of intent with several media and entertainment groups, including tenants in the gaming, film production and streaming content distribution space, the company noted to Commercial Property Executive.
---
READ ALSO: Los Angeles to Remain a Tenant-Favorable Office Market
---
While the Los Angeles office market has grappled with sluggish leasing activity and soaring availability since last year, the entertainment industry has continued to drive interest in space. In April, for example, post-production firm Company 3 signed an 11-year lease for 70,285 square feet at Harlow, a recently completed Class A building owned by Hudson Pacific Properties and Blackstone at 1040 N. Las Palmas Ave.
Two entertainment giants also notched major lease transactions in Burbank last year, with Netflix signing up for 171,000 square feet at Burbank Empire Center for an animation studio and Disney completing a 425,000-square-foot renewal on Alameda Avenue.
Harbor and Bascom invested $3.5 million in the renovation of 4130 Cahuenga Blvd., which included a full complete exterior redesign, building lobby and corridor upgrades, as well as spec suites with polished concrete and exposed ceilings. The companies also introduced private outdoor patio seating, secured parking with a full-time attendant and a bike room.
Built in 1984, the building now offers a number of spec suites ranging from 2,000 to 5,000 square feet, in addition to a multi-floor block of space with double-height ceilings, editing bays and a screening room. The property is located adjacent to Universal Studios and within minutes of CBS, Disney, Netflix and Warner Brothers, with easy access to Burbank, Hollywood, North Hollywood and Studio City.