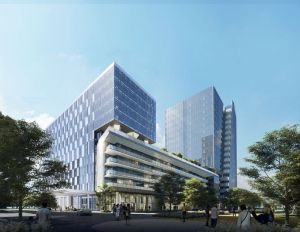 As part of its ongoing efforts to upgrade its existing office park into a modern mixed-use development, HALL Group has started construction on the next phase of HALL Park in Frisco, Texas.
Over the next 20 years, the company is planning to invest $7 billion into a mixed-use development of approximately 9.5 million square feet that will include office, hotel, residential, retail and green space.
The latest phase of construction for HALL Park, estimated at a value of $500 million, will cover approximately 1 million square feet through a new Class AAA office tower, a 154-key hotel, a 19-story luxury residential tower, a collection of 60 executive suites, a 10,000-square-foot food hall and a community park. HALL Group is expecting to complete this phase of construction in the fall of 2023.
---
READ ALSO: Beware of Hidden Issues in Commercial Leases
---
The office portion of the project focuses on a 16-story tower totaling 410,000 square feet of office space above 10,000 square feet of ground-level retail and restaurant space. The HKS Architects-designed office building will also include a corporate lounge, fitness center, meeting space, parking garage, multiple balconies and rooftop amenity decks.
HALL Group is also developing a community park that will be owned by the City of Frisco and will offer an 18,000-square-foot children's park, 6,500-square-foot dog park, event lawn, performance pavilion, entertainment screen, technology terraces, interactive water features and a rain garden. The construction will also include a 10,000-square-foot food hall that will accommodate 10 restaurants as well as a 110,000-square-foot hotel that offers 13,000 square feet of indoor and outdoor event space.
As for the residential portion of the project, HALL Group will construct a 214-unit luxury community and a 67,326-square-foot building of 60 executive suites designed for remote workers, business travelers and newly relocated employees.
HALL Group has planned several sustainability and wellness features for the latest phase of construction. The office tower and executive suites will aim for LEED Gold certification, the luxury community is pursuing LEED Silver certification, and the hotel will seek LEED certification. Overall, the developer is also pursuing a Fitwell certification for the entire mixed-use campus.
More than 40 years of development
The latest phase of construction is part of the HALL Group's ongoing process to redevelop its current office park into a mixed-use community. Currently, the 162-acre site is designed as a 15-building campus totaling 2.2 million square feet of office space alongside dining options, meeting spaces, trails and a sculpture garden. According to HALL Group, the office park has a diverse array of tenants, including more than 200 companies. The tenant roster includes The University of North Texas which signed a 56,517-square-foot lease in May 2020 to renew and expand its lease.
Craig Hall, founder & chairman of HALL Group, said in prepared remarks that the developer opened its first office building at HALL Park in 1998 as part of the master-plan. He added in his prepared statement that HALL Group has been developing at the site for more than 40 years and will incorporate progressive technologies to keep HALL Park attractive for companies.