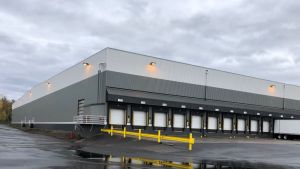 A joint venture between Specht Development Inc. and funds managed by Ares Management LP has landed financing for 224 Logistics Park, an industrial warehouse complex in Milwaukie, Ore. H.I.G. Realty Partners provided the joint venture with an $80.5 million loan for the 1 million-square-foot Portland-area asset.
224 Logistics Park occupies a 62-acre site at 6433 S.E. Lake Road, less than 10 miles outside of Portland's central business district.
Originally developed in 1953, the property last changed ownership in 2018, when Specht and Ares acquired it in a short-term sale-leaseback transaction with a grocery wholesaler for $48.5 million.
The joint venture wasted little time transforming the asset once it was vacated by the tenant, investing in renovations from new roofing to structural upgrades to site improvements. The modernization of the property was one of the factors that attracted H.I.G. to the financing opportunity.
---
READ ALSO: What Lies Ahead for CRE Investment
---
The sponsor had already created tremendous value in a short period of time, Michael Mestel, managing director with H.I.G. Realty Partners, said in a prepared statement.
As a result of the joint venture's efforts, 224 Logistics Park now features best-in-class warehouse, distribution and cold storage space, as well as a separate 117,000-square-foot freezer space, a 48,000-square-foot headquarters office, a 1,800-square-foot free-standing office structure and a 24,000-square-foot truck maintenance shop.
The multi-structure complex presently holds the distinction of being the largest existing available industrial asset in metropolitan Portland. Tenants include Heritage Specialty Foods, which inked a lease for approximately 132,400 square feet in October 2021, with plans to take occupancy in January 2022.
Spreading the wealth
H.I.G. Realty was impartial in its distribution of loans in the commercial real estate sector in 2021, handing out financing to worthy borrowers and assets in a variety of sectors for a variety of purposes.
Notable transactions include a loan to Harrison Street to finance the lease-up of 114 Pacifica, a 110,000-square-foot medical office building in Irvine, Calif., that is presently undergoing renovations. The firm also originated a loan on behalf of a joint venture between entities owned by J. Small Investments and others for the redevelopment of the 23-acre Pegasus Park in Dallas, former home of Exxon Mobil, into a biotech and social impact office campus.
While H.I.G. Realty did not disclose the financial details of the 114 Pacifica and Pegasus Park transactions, the firm did reveal that in June 2021, it had provided a $185 million loan to a joint venture between entities owned by Blackstone and Worth Real Estate Group to finance the lease-up of fashion retailer Forever 21's former Los Angeles headquarters at 3880 N. Mission, a 1.5 million-square-foot industrial and office property located downtown.