By Barbra Murray, Contributing Editor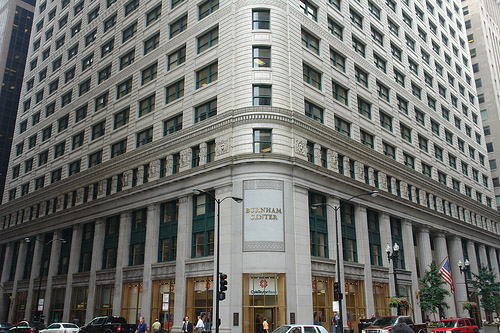 Looking to expand its space along with its increasing success, GrubHub has signed a lease for nearly 59,500 square feet of office space at Burnham Center, Harbor Group International L.L.C.'s historic 580,000-square-foot high-rise in downtown Chicago's Central Loop submarket. The deal paves the way for the online and mobile-food-ordering service company's relocation of its headquarters to the city's central business district, which is fast becoming the preference of tech firms in the area.
"I see a lot of momentum in the Central Loop; it's gaining traction as a hub for both established and start-up tech firms," Jim Vallos, asset manager with Harbor Group, told Commercial Property Executive. "Companies that target the younger demographics for hiring have started trending toward the Central Loop because it's closer to the L system, and that accessibility is much more attractive to companies like GrubHub and a lot of the tech companies."
Commercial real estate services firm CBRE Group represented Harbor Group in the transaction, while U.S. Equities Realty stood in for GrubHub, which is in major growth mode. In early 2011, the company raised $20 million in funding and six months later raised an additional $50 million in Series E funding and acquired food-delivery network Dotmenu. At the time of the merger, GrubHub anticipated that that the combined entity would send over $225 million in order revenues to restaurants in 2011.
To accommodate its mushrooming staff, GrubHub will make its home on the top three floors of the 21-story building at 111 W. Washington St., a D.H. Burnham & Co.-designed tower that made its debut in 1913 and underwent a sweeping renovation in 1986. The eight-year-old company will relocate more than 250 employees to the landmark Burnham Center, leaving behind its smaller current home at 2211 N. Elston Ave., a loft building outside of the CBD in the Lincoln Park submarket.
There appears to be a tech trend afoot in Chicago's office market. Daily coupon website Groupon has played a large role in lighting the spark. Last year, Groupon subleased 220,000 square feet at 600 W. Chicago Ave., from Bankers Life & Casualty Co., greatly expanding its headquarters at the 1.6 million-square-foot mixed-use property in the River North submarket, just north of the Central Loop. "I think there's been big push in Chicago lately with firms like Groupon and GrubHub, and a lot of other technology companies starting to really favor the core downtown area," Vallos said. "As those firms start to take up what was traditional office space, the overall market has certainly started to improve." According to a report by CBRE, the CBD office market in the Windy City closed 2011 with net absorption of approximately 420,000 square feet, marking the strongest year-end absorption downtown since 2007 and the sixth consecutive quarter of positive absorption.
"There's been a flight to quality," Vallos explained. "Over the past three or four years as the market declined, some of the more established firms and firms that are stronger financially have really sought opportunities in places that they might not have looked otherwise. At the same time, I think you see companies like GrubHub that are now established, really looking to be in the central business district."