By Barbra Murray, Contributing Editor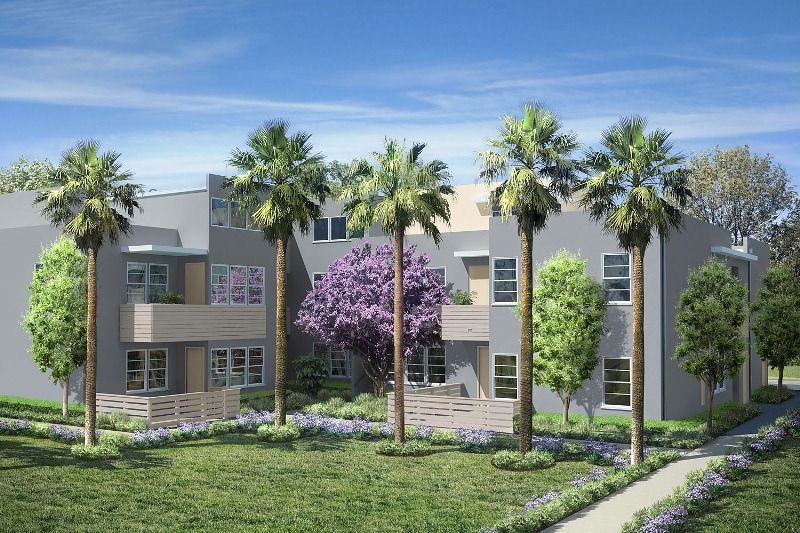 Lincoln Place, the largest garden-style apartment complex in the Los Angeles beach community of Venice, is about to get the facelift of a lifetime. Apartment Investment and Management Co., armed with the skills of commercial builder Bernards, has kicked off the $140 million redevelopment of the historic 696-unit property in a modernization process that will yield both new and upgraded units.
It's a multi-faceted endeavor that just kicked off at 1077 Elkgrove Ave. Lincoln Place's existing 696 units housed within 45 mid-century buildings, will be submitted to top-to-bottom renovations and 99 brand new units will sprout up on three vacant parcels.
The redevelopment of Lincoln Place has been a long time coming. Aimco purchased 50 percent of the asset in 2001 for $57.5 million and acquired the remaining 50 percent in 2003 for $63 million; plans for the project have been in the works ever since.
Now, not only has the project broken ground, it has broken new ground. The gargantuan undertaking has a hefty price tag attached to it and Aimco, through Red Mortgage Capital L.L.C., obtained $190.7 million non-recourse construction and permanent financing for the project in a transaction that marked the largest FHA Section 221(d)(4) unsubsidized loan ever insured by the U.S. Department of Housing and Urban Development.
"You couldn't seek better collateral for a loan of this size in this environment–over 34 acres in Venice, [approximately 700] beautifully rehabilitated units coming onto the market in the near term, with Aimco as the owner, is the perfect trifecta," Anthony Cinquini, senior managing director with Red Capital Group, parent company of Red Mortgage Capital, told Commercial Property Executive. "Factoring in a fully amortizing FHA 221(d)4 insured loan with an all-in rate of 2.73 percent only improves on Red's strong belief that, regardless of the size, this is a fantastic project."
The money is in hand, the players are in place and controversies have been resolved, but the process of redeveloping Lincoln Place will be anything but a stroll on the beach, as there's the property's presence on the National and California Registers of Historic Places to consider. Designed by celebrated local Modernist architect Ralph A. Vaughn and partner Heth Wharton, Lincoln Place reached completion back in 1951 at the hands of developer Gerald Bialac. Now, all eyes are watching and Bernards, a noted pro in the historic preservation arena, is laser-focused as it moves forward with the task of maintaining Lincoln Place's architectural integrity while transforming the multi-family community into a modern residential destination. No detail will be overlooked, not even the windows.
"The original 1948 sashes and glass are an integral and substantial element of the buildings' design, and an elaborate procedures process is ensuring appropriate window preservation and restoration," Dave Cavecche, a vice president with Bernards, told CPE. "The entire window structure, including glass, is carefully removed and shipped to a specialty consultant who dips the piece to remove the lead-based paint, and patches and preps the surface for painting. The windows are then returned to the site for painting and installation."
While Lincoln Place's collection of rehabilitated and brand new residences will be a rather massive one, Venice is ripe for new additions. As Aimco points out, renters account for 57 percent of all households in the neighborhood, and since 2009 a mere 70 new units have hit the market. Lincoln Place will go a long way in reducing the gap between supply and demand in Venice. Restoration of the property's collection of restored units is on track to reach completion during the second quarter of 2013, with the newly constructed residences scheduled to debut in the first quarter of 2014. Construction of Lincoln Place is expected to be fully completed in the fourth quarter of 2014, and Aimco anticipates that the property will be stabilized by the first quarter of 2015.
Like us on facebook: https://www.facebook.com/pages/Commercial-Property-Executive/258033884191