By Keith Loria, Contributing Editor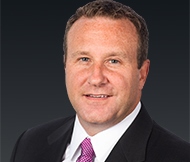 Griffin Capital Corp., on behalf of Griffin Capital Essential Asset REIT II, Inc., has acquired the Wyndham Worldwide corporate headquarters facility, a 203,506-square-foot Class A office building in Parsippany, N.J., from an affiliate of Mack-Cali Realty Corp. for $81.4 million.
"GCEAR II is committed to acquiring essential business assets of quality tenants. Both 14 and 22 Sylvan Way (comprising the Wyndham HQ campus) are essential assets for the operations and strategic growth of the company and under long-term leases," Robert Corry, Griffin Capital's managing director, acquisitions, told Commercial Property Executive. "Wyndham is one of the leading global hospitality firms and has substantive market share in each of its three business segments."
The three-story Wyndham Worldwide headquarters is situated on a 23.15-acre site in the Mack-Cali Business Campus.
"The property is 100 percent leased to Wyndham Worldwide Operations, with a guarantee from the parent company, Wyndham Worldwide Corp., which has an investment grade credit rating of 'BBB-' from S&P and is one of the world's largest hospitality companies." Corry said.
Over the past five to six years, Wyndham consolidated from numerous locations within the Mack-Cali Business Campus to provide a more centralized location to grow the firm. As a result of the company's continued growth and centralization plan, in 2013 they expanded its headquarters through the construction of the property located immediately adjacent to 22 Sylvan Way.
The tenant has a remaining lease term of over 14 years with annual base rental rate increases of 1.75 percent and no termination or contraction options.
"This was an excellent opportunity to monetize the value of this class A corporate headquarters," Mitchell E. Rudin, Mack-Cali's CEO, said in a company statement. "The proceeds will be reinvested into more strategic growth opportunities."
In addition to the sales price, Griffin is assuming responsibility for approximately $2 million in future tenant improvement allowance.
In April, Griffin Capital Corp., acquired Westgate II and Westgate III, a pair of Class A office buildings located in Houston' Energy Corridor, for a reported $135 million. Combined, year-to-date acquisitions for the REIT total over $328 million in purchase price with a weighted average remaining lease term of over 10.5 years.