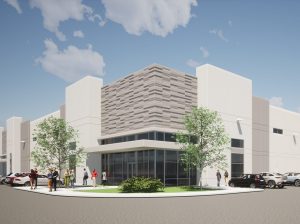 Greystar Real Estate Partners has broken ground on the initial phase of McKinney Airport Trade Center, an industrial park in McKinney, Texas.
At full buildout, Greystar's first industrial development in the Metroplex will encompass five structures totaling 740,000 square feet across 70 acres. The project is situated along FM 546, also known as Harry McKillop Blvd.
Plans for the first phase of McKinney Airport Trade Center call for the construction of three buildings totaling 320,000 square feet. Completion is expected by the end of 2022.
The developer acquired the site for the two-phase industrial complex last September, with the help of NAI Robert Lynn and Carey Cox Co. NAI Robert Lynn will also manage the property, and will partner with Carey Cox to oversee leasing efforts.
At the same time, the developer also secured a $64 million construction loan originated by First Horizon Bank, Collin County records show.
In good company
McKinney Airport Trade Center will take shape less than 3 miles from McKinney National Airport and within 5 miles of Highways 75 and 380. Notable companies with a presence in the area include Amazon, Blue Mountain Equipment and HiSun Motor Sports. Last December, Transwestern Development Co. started construction on McKinney National Business Park, a five-building industrial park totaling 945,000 square feet some 3 miles away.
Based on Cushman & Wakefield data, construction activity in the first quarter of 2022 across the Metroplex jumped 162 percent year-over-year and industrial vacancy dropped to 5.0 percent. Also in the first quarter, 7.1 million square feet of industrial projects came online across the Dallas-Fort Worth market, while an additional 64.5 million square feet of industrial space was underway.