By Barbra Murray, Contributing Editor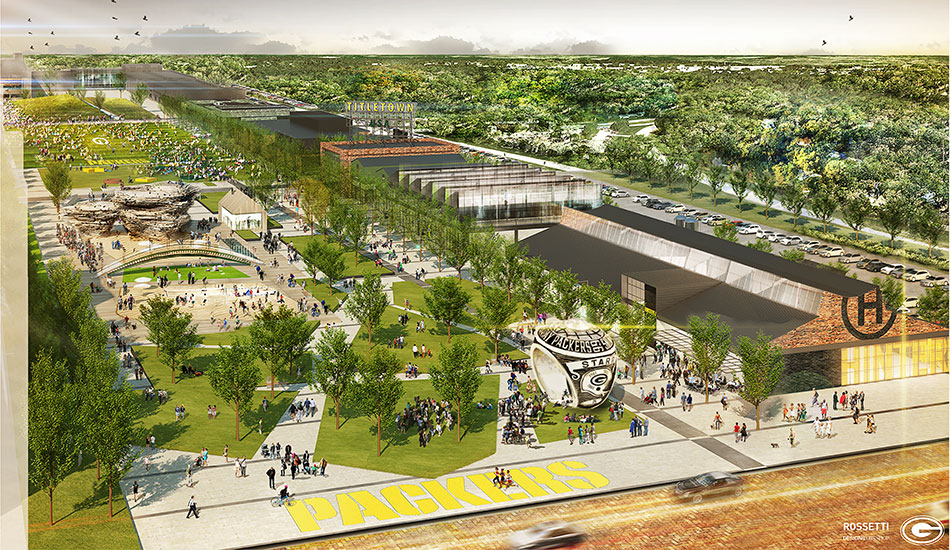 In a couple of years there will be a lot more than football-throwing going on near Lambeau Field, home to the NFL's Green Bay Packers, in Green Bay, Wisc. The Packers just revealed the master plan for Titletown District, a 34-acre mixed-use project the team will co-develop at a total cost of approximately $130 million.
Titletown will take shape just west of Lambeau Field, featuring a program- and activity-filled 10-acre public plaza as its center. The Packers are joined in the endeavor by Kohler Co., Bellin Health, and Hinterland, all three of which will add components spanning a total of eight acres.
Kohler will build Lodge Kohler, a Four-Diamond hotel catering to Packers fans and Titletown visitors alike, while Hinterland will deliver the 20,000-square-foot Hinterland Bar and Brewery. Bellin Health, the Packers' official healthcare partner, will provide the most unique portion of the development: a 30,000-square-foot sports medicine facility, staffed by the team's physician and a host of other sports medicine specialists. The facility will serve the players, as well as other athletes throughout the community.
But that's just the beginning for Titletown. With 16 additional acres remaining, the property will be able to accommodate a residential component, as well as additional commercial and retail development. Ground is scheduled to break on Lodge Kohler, Hinterland and Bellin Health this fall.
The Packers, which are investing $65 million of the estimated total for the initial three-segment phase of Titletown, is being assisted in the development by real estate advisory firm Sterling Project Development, architectural firm Rossetti and Biedermam Redevelopment Ventures, a developer and operator of parks and public spaces. If all goes as planned, the hotel, brewery and sports medicine facility will open their doors in the fall of 2017.