By Timea Papp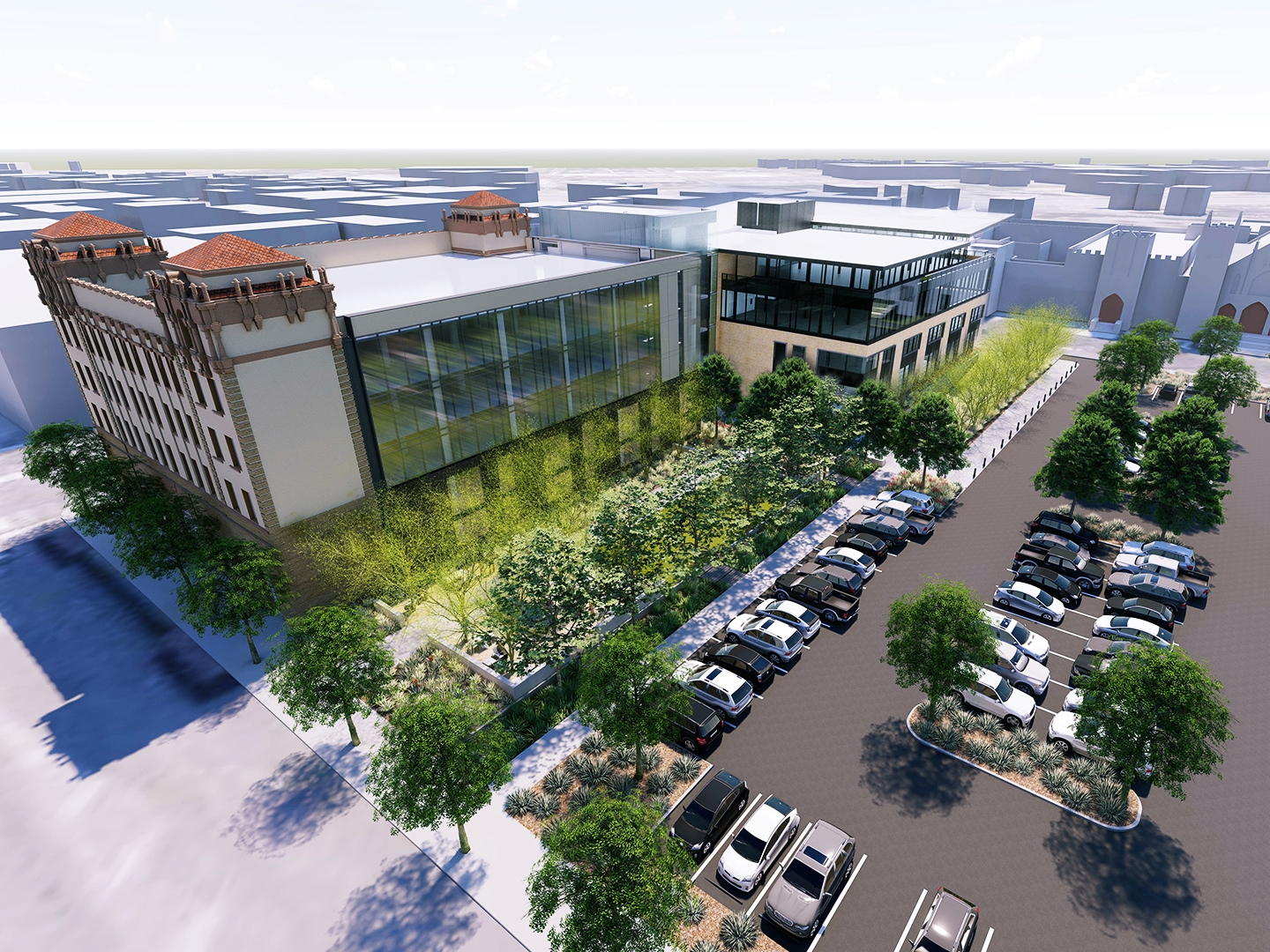 GrayStreet Partners is making headway in the Light Building project in downtown San Antonio. The Historic and Design Review Commission has granted a final design approval for the rehabilitation of another property that will be a component of the adaptive reuse development—the Print Building.
Construction on the Light Building is well underway and, with all approvals in check, the company can start work on the Print Building soon. The project is slated for completion by the second quarter of 2019.
Located at 420 Broadway St., the former San Antonio Light building is a historic 1931-built Spanish Colonial Revival property that used to house the San Antonio Light newspaper. Its annex, the Print Building, is situated at 421 N. Alamo St. The structures are connected via a below-grade tunnel and a walkway on the second floor.
Growing demand
GrayStreet acquired the assets from the Hearst Corp. in December 2016 and unveiled plans to transform the industrial site into creative office space. The company selected Transwestern Executive Managing Director Larry Mendez and Senior Associate Brad Kaufman to spearhead preleasing efforts at the property. Late last year, the brokerage firm arranged a lease extension and renewal in downtown San Antonio on behalf of law firm Chamberlain Hrdlicka.
According to Mendez, the San Antonio CBD office market is on the upswing in regard to asking rates and deal velocity. "The Light project will be one of the most sought-after developments recently delivered in San Antonio. The 140,000 square feet of efficient, rectangular floorplates and above-market, generous parking ratios offer solutions never before available in downtown San Antonio," Mendez explained in prepared remarks.
Neighboring organizations have shown their support for the reconstruction of the historic site that will include adding new fenestration and a modern facade. "We are especially encouraged to see the transformation of the once industrial facades of the Print building into vibrant elevations that open to the street, provide a human scale and are rich in material and detail," Greg Seiler, CEO of Metropolitan Methodist Hospital, said in a letter of support.
"The Light Building project is a direct response to growing tenant needs. The tenants we are working with will utilize their space to elevate their business and to attract and retain talent. This project is like upgrading a classic car with all new systems," Kaufman added.
Image courtesy of Transwestern