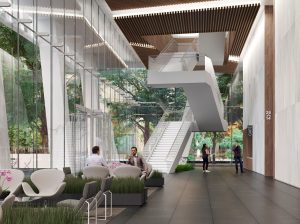 Granite Properties is one step closer to a June groundbreaking for 23Springs, a 626,215-square-foot mixed-use development in Uptown Dallas. It's a two-in-one for the upcoming 26-story Class AA office project, as Bank OZK provided construction financing and signed a 110,029-square-foot lease for its new regional headquarters at the upcoming development, expected to be delivered in March 2025.
The Little Rock-based lender will occupy four floors at 23Springs and originated a $265 million loan, according to Dallas County records. JLL's Robert Blount represented the bank in the 110,029-square-foot lease negotiations, while Granite was represented internally by Robert Jimenez and Burson Holman.
---
READ ALSO: Dallas-Fort Worth Flex Office on the Rise: Q&A
---
Granite plans to market the development in-house with the leasing team including Robert Jimenez, Burson Holman and Elizabeth Fortado. JLL also helped secure the construction loan with Jim Curtin working o behalf of the borrower and Nam Tran of Winstead representing Bank OZK.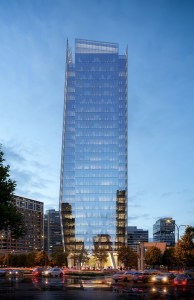 Building Uptown Dallas' largest office building
Featuring double X-brace columns, the GFF Architects-designed 23Springs is set to become an architecturally distinct high-rise in the Dallas skyline. The development team behind the glass tower also includes DPR Construction as general contractor. Granite plans to achieve LEED Silver as well as Fitwel certifications for 23Springs, which will be Uptown's largest office building upon delivery.
The high-rise will take shape on 2.5 acres at 2323 Cedar Springs Road and will replace Cedar Maple Plaza I-III, a three-building office complex built in 1983 and totaling 112,675 square feet. The new development will feature 26,000-square-foot floorplates.
Amenities at 23Springs will include a tree-lined park with seating options and pathways on half an acre, as well as two low-rise restaurant buildings encompassing 17,000 square feet, positioned on each side of the office tower.
The new development will also feature a two-story lobby with a coffee and wine bar, a 4,500-square-foot fitness center, an indoor as well as an outdoor lounge, a conference center and boardroom, electric vehicle charging stations and bike storage. Additionally, 23Springs will offer six levels of underground parking, a private motor court and valet parking.
A few blocks away, Stream Realty Partners has started construction on The QUAD, the company's largest single investment in Dallas, with the help of a $176 million construction loan. Scheduled to come online in early 2024, the project will include a 12-story office tower totaling 335,000 square feet, along with five bungalows offering a combined 15,000 square feet of retail space.