By Gail Kalinoski, Contributing Editor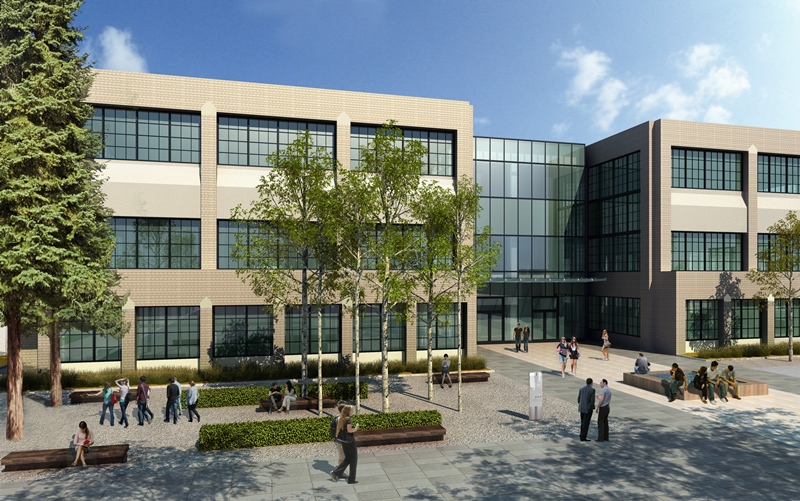 Google, Inc. is leasing 500,000 square feet – the largest lease signed so far this year in Silicon Valley – at the former Mayfield Mall in Mountain View, Calif., which is being repurposed by Rockwood Capital, L.L.C., and Four Corners Properties, L.L.C. into Class A office space.
Once the site of the first enclosed, air-conditioned shopping mall in northern California, the 27.6-acre site at 100 Mayfield Ave. is adjacent to the San Antonio Caltrain station, it's a 50-minute ride to downtown San Francisco.
It operated as a mall from 1966 to 1986 when Hewlett-Packard bought it and used it as an office campus until it later closed that site. The property had been set to become a 260-unit housing complex. When those plans fell through, Rockwood and Four Corners bought the site for $90 million in late 2012. At that time, it was the largest sale of office space in Silicon Valley, according to Kidder Mathews.
Neither the amount that Google is paying to lease the property, now being called San Antonio Station, nor the cost to renovate the buildings was released. A Google spokesperson would only confirm the lease and declined to discuss the tech giant's plans for this site and whether it would affect other expansion in the region.
Kevin Cunningham and Jack Troedson of Cornish & Carey Commercial Newmark Knight Frank represented the property owners. Steve Berkman, real estate partner at the Paul Hastings law firm, represented the landlord in the lease negotiation.
"The renovation of the Mayfield Mall into a premier office campus will be a catalyst for the transformation of an evolving mixed-use urban location that benefits from rail," Jason Oberman, vice president at Rockwood Capital, said in a joint release with Four Corners.  "The repurposing of the former Mayfield Mall will incorporate the property's historic architectural elements and will utilize green building techniques, modern design, and advanced building technology."
Maureen McAvey, an Urban Land Institute senior resident fellow for retail, told Commercial Property Executive repurposing outmoded enclosed malls is a trend in commercial real estate and urban planning. Outdated and increasingly empty malls across the United States have been turned into offices, schools and churches among other uses.
She said the sites can have many assets.
"There is often a large tract of land in single-ownership with good road and highway access, sometimes even served by transit," McAvey added. "In many cases, the suburbs have grown up around the mall and there is now a mix of housing, other retail and in some cases, other offices nearby."
The challenge that many communities face in repurposing outmoded malls is if the area around the retail center has declined. That is certainly not the problem in Mountain View, where there are few large tracts of land left for the office campuses that high-tech companies like Google crave for their employees and their expansions.
"Google is seen as such a desirable employer that they can create a dynamic and desirable place to work simply by being the prime tenant. With a 500,000-square-foot footprint they will be creating enough jobs that they can further change the market dynamic," McAvey concluded.
The northern part of the region, which includes Mountain View, Palo Alto, Cupertino and Sunnyvale, has been strong with vacancy lower than 5 percent compared to the overall rate of 12.44 percent for the entire Silicon Valley market, according to the Second Quarter 2013 Real Estate Market Review by Kidder Mathews. The shortage of office properties has led to rental rates at about $4 per square foot in the Mountain View area, the report noted.
Rockwood Capital, which manages a portfolio of approximately $2.9 billion of net equity value and $7 billion of gross real estate value, had one of the notable transactions of the second quarter, purchasing a 157,387-square-foot building at 303 Almaden Blvd. in San Jose, according to Kidder Mathews. A Rockwood Capital spokesperson told CPE the firm has "significant development and redevelopment experience in the San Francisco Bay area." The list includes University Circle, a 451,000-square-foot office and mixed-use campus in East Palo Alto and 690 E. Middlefield, a 341,000-square-foot build-to-suit headquarters campus for Synopsys in Mountain View. In Cupertino, it owns Cupertino Gateway, a 220,000-square-foot office campus leased to Apple. A 350,000-square-foot office campus at 410-430 N. Mary in Sunnyvale is partially leased to Apple.
Four Corners, which focuses primarily on value-add, urban infill commercial properties in Northern California, also has holdings in Cupertino Gateway with Rockwood Capital. Since its founding in 2005, Four Corners has completed acquisition of 29 buildings totaling more than 2.7 million square feet of office and R&D space with a total investment of about $600 million