By Keat Foong
Is retail a victim of the Internet and heading the way of the horse and buggy? The big-box stores, which tend to sell merchandise that can be purchased online by consumers, seem particularly hard hit by recent economic and technological trends. Circuit City filed for Chapter 11 bankruptcy protection and closed its stores; Borders liquidated after failing to find a buyer at any price; Filene's Basement was acquired by Sym's, which is now liquidating; and Sears, folded into Kmart, is struggling.
The pace of retail store closings in general continues. The 65 million square feet in 4,000 store closings announced by retailers in 2011 represented an increase of 40 percent over the space reduction in 2010, according to the International Council of Shopping Centers (ICSC).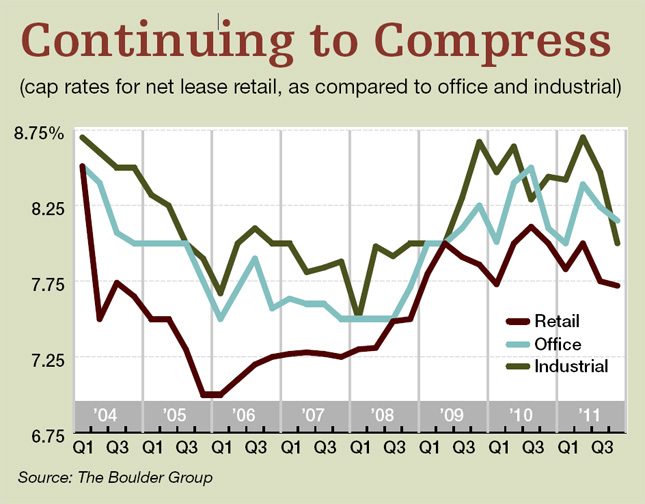 "In the U.S., there is always turnover in the retail market. Stores close all the time," commented Victor Canalog, vice president of economics and research at Reis Inc. Nevertheless, although he acknowledged that there will always be a need for shopping, Canalog suggested spaces may continue to go dark in future as part of a longer-term trend. "If there is a recovery, there will still be massive competition for the typical customer coming from the Internet," he said. "Many wonder if the U.S. may have more than enough retail per woman, man and child."
The good news is that the effects of the retail sector contraction, and in particular, the big-box closings, on the single-tenant net lease sector have been muted, according to net lease players. Randy Blankstein, president of The Boulder Group, observed that in reality, the big-box shutdowns have garnered much attention in the news but have not directly affected a lot of net-leased properties. Agreed Ethan Nessen, managing director of Corporate Realty Investment Capital L.L.C.: "Ten years ago, I would have told you there would have been some form of contagion, but this time around, the effects have really been compartmentalized and isolated from the rest of the market."
Nessen argued that many of the companies that failed did so for specific reasons, rather than because of pandemic problems in retail. While Sharper Image, Borders and Circuit City have fallen, a slew of other big-box businesses remain very healthy.
"There are very, very strong big-box powerhouses—such as Lowe's, Walmart and Home Depot—that are not going anywhere," Nessen affirmed. And smaller-box retail stores—such as restaurants and drug stores—generally tend to be "booming," he added.
No doubt, the price will fall for any net lease property that is unlucky enough to be on the market when bankruptcy is unexpectedly declared by the tenant. If the retail company is undergoing a Chapter 11, sellers that can afford to be patient may want to take the property off the market and wait it out, suggested Howard Sands, managing director & founding principal of Corporate Partners Capital Group Inc. Investor demand will be low during the period of uncertainty, and if the lease is reaffirmed by the tenant the property value could actually increase, he explained—especially given that the company is likely to emerge from reorganization financially stronger than before.
In a worst-case scenario, in which the store will be shut down in a Chapter 7 bankruptcy, developers and net lease brokers say that emptied retail spaces in core urban areas can be filled in a relatively short period of time. "We do not see them sitting empty for a long time," said Sidney Domb, president of United Trust Fund, of properties in his Miami market. Blankstein said that in urban locations such as Michigan Avenue in Chicago it could take several weeks for a Borders to re-tenant. Other vacated properties—such as those in secondary or tertiary locations— however, "can sit empty for a year and still not have a possibility for re-tenanting," he said.
For such reasons, the main effect of the big-box failures is that the quality of the real estate and the tenant becomes even more important to the investor, according to net lease brokers and sponsors. The real or perceived risk of retail company closings "makes investors more motivated to have good-credit tenants," put in Sands.
The heightened investor preference for investment-grade tenancies has contributed to a decompression in the cap rate differential between properties that are occupied by stronger credit versus those occupied by weaker credit tenants, said Sands. Nevertheless, cap rates for net lease investments overall have now heated up. The fact remains that despite the trends in the larger retail world, investor demand for net lease is still pretty strong in general, driven by low interest rates and paltry returns on alternative investments. Investors are now showing active demand for properties with investment-grade and non-investment-grade tenants, said Sands. "A lot of money has been raised for net lease product," added Nessen.
Research by The Boulder Group shows that cap rates for all net lease sectors continued to fall in the fourth quarter. The main contributor to the decline is a "shortage of new net-leased development," according to a company report. Cap rates in the retail net lease sector fell from 7.83 percent at the start of 2011 to 7.72 percent by the fourth quarter. "Ironically, there has been no increase in cap rates in the net lease sector, and if anything there is still a compression," Nessen agreed.
Another reason for the resilience of net lease as an investment in the wake of larger troubles in the retail sector is that the net lease space is simply much more diversified today. Particular problems in the big box retail segment will not give the entire industry a black eye, Nessen said. That was not always the case. "Ten years ago, there was a lot more concentration on retail and big-box retail in net lease," he said.
The impact of store closings on the sector has also been minimized by the fact that only some of the big-box users prefer single-tenant space. "A lot of single-tenant properties were scrambling because they lost one big tenant," cautioned Canalog. But while Borders and Circuit City are more likely to be single-tenant and therefore net leased, most Filene's Basements are in-line, pointed out Nessen.
As for the long-term trend, opinions differ. Nessen takes an optimistic view. "Maybe there will be a decline in retail in the book, DVD and CD categories. Beyond that, we do not see a decline, and we will continue to see growth overall," he said. Domb, on the other hand, believes the weakening in the retail sector is real. Because of the lack of demand from companies to engage in sale-leasebacks of retail space, UTF has readjusted its business strategy and shifted its emphasis away from retail build-to-suits in favor of medical office buildings.
"Fewer companies in big box are expanding. We go where the expansion is. Now the expansion is big in medical and manufacturing," he said. The company has engaged in a $203 million build-to-suit/sale-leaseback transaction—the largest in its history—with the Sisters of Mercy. "Before, we would never be building a hospital/medical (property). We do big boxes," said Domb. UTF is also working on three other properties, none of which are retail. "In the past, certainly at least one project would have been retail," said Domb.
For analysis of retail real estate's performance, turn to "Retail Retracts."