By Gail Kalinoski, Contributing Editor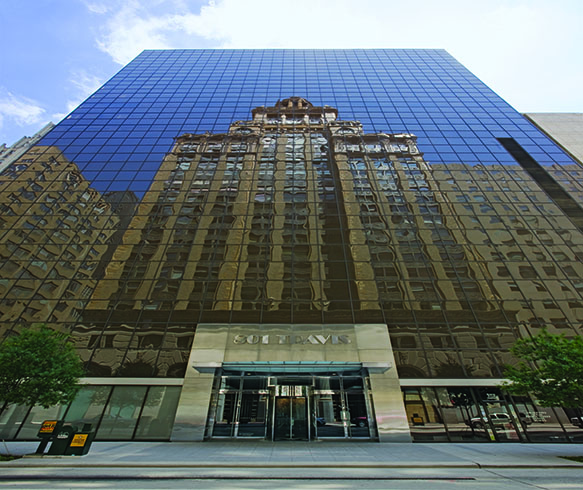 In the first significant value-add deal since the oil price slump began, 801 Travis, a 21-story, boutique office building in downtown Houston, has changed hands.
The price for the 220,380-square-foot office asset was not disclosed. But a spokesperson for HFF, which represented the seller, Goddard Investment Group of Atlanta, said the sale "illustrates the continued interest in Houston office buildings."
LPC Realty Advisors I, L.P., an affiliate of Lincoln Property Group, purchased the asset on behalf of a pension fund client. Goddard had owned the property since 2007, when it bought it from Coast Range Investments, L.L.C., according to the Houston Business Journal.
"This transaction, along with several others, demonstrates the decline in oil prices have had very little, if any, impact on pricing for quality office product in the top tier submarkets," the HFF spokesperson told Commercial Property Executive.
Just over half of half of Houston's economy is directly tied to the energy industry, according to Colliers International's Houston Office Market Q1 Research & Forecast Report, which did note there has been an increase in available sublease space. The report noted that available sublease space rose 33 percent between the fourth quarter of 2014 and first quarter of 2015, going from 4.5 million square feet to 6 million square feet.
"The good news is the majority of new inventory and projects under construction are significantly pre-leased and most proposed projects have been put on hold," the Colliers report said. "This, coupled with a relatively low vacancy rate, should help keep Houston's office market fairly healthy until energy prices rise."
801 Travis is 82.8 percent occupied, according to HFF. The property, which also has an 11-story, 445-space podium parking garage, is connected to the JW Marriott hotel, which uses the 12th floor for a spa, fitness center, VIP lounge and executive offices. The hotel's meeting space is located on the first floor of 801 Travis.
Originally completed in 1981, the property was most recently renovated in 2014. It is located in downtown Houston adjacent to two METRORail lines and is connected to the downtown tunnel system. The building is also near the Theater District, George R. Brown Convention Center, sports venues like Minute Maid Park and the Toyota Center, as well as hotels, restaurants and stores.
The HFF Investment sales team was led by senior managing director Dan Miller and director Martin Hogan.
One of the largest office deals was announced earlier this month but is listed as under contract for the first quarter in the Colliers report. Griffin Capital Corp. acquired Westgate II and Westgate III, a pair of newly constructed Class A office buildings along Katy Freeway in the Energy Corridor, for $135 million from Miller Global Properties. Griffin Capital is the sponsor of Griffin Capital Essential Asset REIT, Inc., which acquired Westgate II, and Griffin Capital Essential Asset REIT II, Inc., which purchased Westgate III. The buildings are the headquarters of Wood Group Mustang, an engineering firm.
The Colliers report stated there were 20 office investment sales in the first quarter with an average price per square foot of $236 and an average cap rate of 7.2 percent. Houston's construction pipeline contains 14.5 million square feet of office space, of which 65 percent is pre-leased, according to Colliers.