By Barbra Murray, Contributing Editor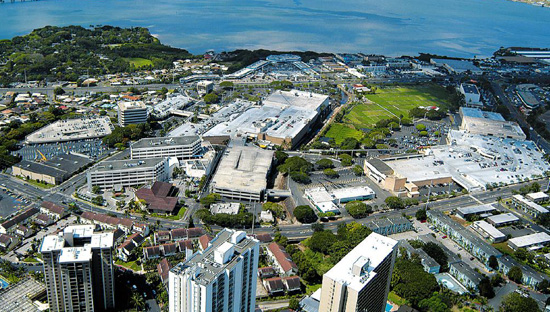 In a transaction valued at approximately $289.4 million, Glimcher is looking to acquire the 80 percent indirect interest in Pearlridge Center, a 1 million-square-foot shopping mall in the community of Aiea, in metropolitan Honolulu. Glimcher, whose affiliate currently owns 20 percent of Pearlridge, will acquire the majority stake in the property from affiliates of Blackstone Real Estate Partners VI.
Glimcher and Blackstone have owned Pearlridge since 2010, when the partners acquired the asset for $245 million, financing the purchase with proportional equity contributions and a new $175 million mortgage loan. "Blackstone looked at it as more of a shorter-term hold and we looked at it as a long-term hold — so we thought eventually we would have another bite at the apple," Michael Glimcher, chairman of the board and CEO, told Commercial Property Executive. "From the get-go, we thought we would love to own more of the asset."
And there's so much to love. The gargantuan property, developed in 1972 and substantially upgraded in 1996, is the second largest mall in the state of Hawaii and boasts an occupancy rate of more than 99 percent. "This happens to be an incredibly strong asset," Glimcher said. "This is really the locals' mall. Many retailers and restaurateurs in the mall have got one of their top five units in this particular location nationwide. So it's a very high-performing mall that caters primarily to the locals."
The retail REIT has been managing the property on behalf of the partnership and will continue to do so after the transaction reaches completion. For the soon-to-be full owner, the focus at Pearlridge is not just on keeping the tenant roster full. It's also on tenant performance. "The biggest issue we have is getting space back; we have a tremendous amount of demand, almost a waiting list of retailers who want to be in there," Glimcher noted. "We'll turn between 5 and 10 percent of the space every year and we're going to be very aggressive with rents and with the quality of the tenancy. And with the mall doing at about $500 per square-foot, we think it has the potential, over the next 24 months or so, to get up above $600 per square-foot. If someone's lease is rolling and they're not performing at or above the mall average, they're probably likely to be replaced."
Glimcher's purchase of the remaining 80 percent stake in Pearlridge will involve the assumption of Blackstone's pro-rata share of the aforementioned $175 million mortgage debt and a cash payment of $194.4 million. The REIT plans to fund the cash portion of the purchase with either net proceeds from its recently announced public offering of 20 million shares at a price of $9.90 per share, or funds drawn under its credit facility or a combination of both.
The transaction dovetails with Glimcher's strategy of boosting the quality of its sizeable portfolio of regional malls, open-air lifestyle centers and community centers. Acquisitions, dispositions, developments — the company is pursuing a bevy of avenues to achieve its goal. In late 2011, it added the 626,500-square-foot Town Center Plaza in Leawood, Kans., to its holdings. The property, Glimcher pointed out, does over $400 per-square-foot and is one of the best retail assets in the Kansas City metro market. The REIT is also in the process of wrapping up a project at tis Scottsdale Quarter premium retail property, which, he added, is currently the highest sales per-square-foot shopping venue in all of Arizona. On the sales side, the company's Tulsa Promenade asset in Tulsa, Okla., is currently on the market, as it performs below the portfolio average. "Our story is adding to the top and selling from the bottom."
The closing of the purchase of Blackstone's interest in Pearlridge is on track for the second quarter of this year. "It's a great opportunity for us to add additional interest within this property and also grow the overall market cap of our company," Glimcher said. "For us, it's all about getting better. We like to grow and get bigger, but not at the expense of getting better. Here, we have an opportunity where we can get bigger and better all at the same time. It's a unique sort of circumstance and we're very excited about it."