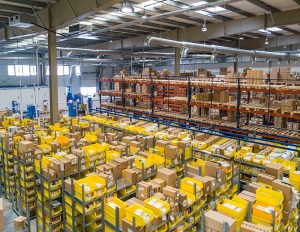 GID Industrial is both entering the Baltimore-Washington, D.C., market and expanding its North Las Vegas footprint with its latest acquisition of two industrial portfolios totaling 1.4 million square feet. The firm acquired the two portfolios from Link Logistics for an undisclosed price.
The overall acquisition includes 14 buildings, of which nine buildings totaling 959,570 square feet are located in Maryland's Baltimore City and Howard County. The properties in the Maryland portfolio offer a total of 180 dock doors with 18- to 24-foot clear heights and a wide range of suite sizes. The portfolio is currently occupied by 33 tenants.
---
READ ALSO: How Migration Trends Impact Industrial, Office Real Estate
---
The remaining five buildings total 433,270 square feet and make up Nellis Industrial Park in the North Las Vegas submarket. The industrial park's facilities were built with a total of 70 dock doors and range from 20- to 24-foot clear heights. Nellis Industrial Park is fully occupied with 21 tenants occupying 22 suites. The industrial campus is also located near I-15 and Craig Road, connecting it to downtown Las Vegas and other nearby cities in Nevada.
Entering the Baltimore-D.C. metro market
GID Industrial was created as an investment platform between GID and Ivanhoé Cambridge in April 2021. The portfolio consists of GID's industrial assets and the properties that Ivanhoé owned under its Evergreen Industrial brand.
GID Industrial has a significant presence in the Las Vegas market, in addition to the five industrial properties within Nellis Industrial Park. In a partnership with SunCap Property Group, the firm has recently acquired 26 acres of land in the region that will be used to build two light industrial buildings totaling 467,000 square feet. The SunPoint Commerce Center will be located 4 miles away from Nellis Industrial Park.
Beyond the latest acquisitions, GID Industrial plans to continue its strategy of acquiring, developing and managing light industrial assets in areas with high barriers to entry, density and high incomes.