October 18, 2011
By Barbra Murray, Contributing Editor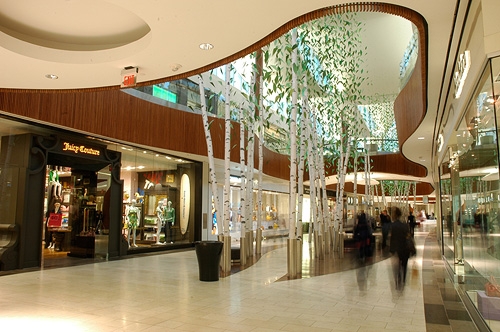 General Growth Properties Inc. started 2011 with plans to refinance a few billion dollars' worth of maturing debt by the end of the year. The mall REIT has completed its task well ahead of schedule with the recent $966 million refinancing of four properties.
Among the malls for which GGP has just secured new non-recourse mortgages is the 1.7 million-square-foot Natick Mall in Natick, Mass., just outside of Boston (pictured).  The REIT refinanced the property, originally developed in 1966, for $450 million. GGP also obtained new debt totaling $200 million on Galleria at Tyler in Riverside, Calif. Located 40 miles east of downtown Los Angeles, the 31-year-old super-regional mall expanded to its current size of 1.2 million square feet in 1991.
First Colony Mall, a 1.1 million-square-foot, 15-year-old property in the Houston suburb of Sugar Land, Tex., was refinanced to the tune of $185 million. And a new $131 million mortgage is in place for the 1 million-square-foot Northbrook Court, a 35-year-old mall near on Chicago's North Shore in Northbrook, Ill.  GGP owns a 50 percent stake in each of the assets.
The refinancings provide GGP with two highly valuable benefits: time and money. Together, the four new non-recourse loans have a weighted average term of 9.1 years and an average fixed-interest rate of 5.1 percent, marking a notable decrease from the prior 5.81 percent average.
Between April and September, GGP completed the refinancing of 14 malls at a total of $2.56 billion, and with the addition of the four most recent transactions, the REIT has wrapped a total of approximately $3.9 billion featuring a 5.1 percent weighted average interest rate. "At the start of 2011, one of GGP's stated goals was to strengthen the company's balance sheet and liquidity while also reducing interest rates and extending the average debt maturity profile," CEO Sandeep Mathrani remarked. "We have accomplished our 2011 goals and are now focused on 2012 financing opportunities."
The achievement comes less than a year after GGP emerged from Chapter 11 bankruptcy in Nov. 2010.