By Gail Kalinoski, Contributing Editor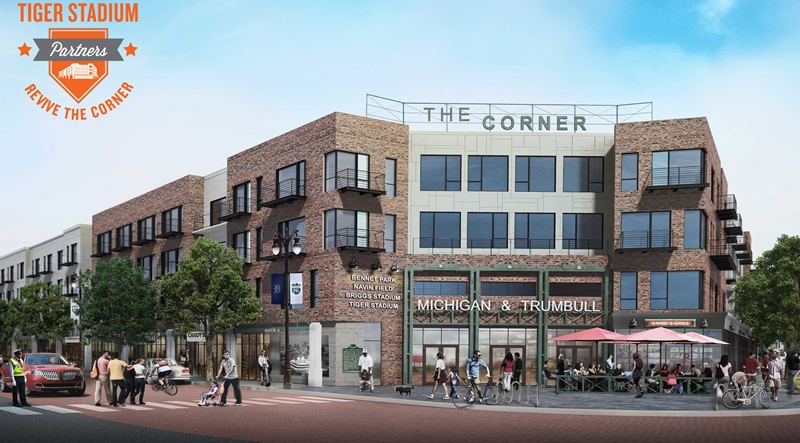 Larson Realty Group and its development group that includes Fundrise, a leading real estate crowdfunding platform, have been chosen to redevelop the Michigan and Trumbull blocks of the former Tiger Stadium in Detroit into a $33 million mixed-use project.
A separate $11 million plan from Detroit PAL (Police Athletic League) and The Old Tiger Stadium Conservancy to develop the site along Cochrane Street, including the playing field, was also approved Tuesday by the Economic Development Corp. of the City of Detroit. The site would be used for a new PAL headquarters and site for youth sports programs, including baseball. The 9,300-square-foot headquarters would include a banquet facility overlooking the restored field that would have seating for 2,500 spectators. The new stadium would feature a historical interactive center.
The Tigers left the stadium for Comerica Park after the 1999 baseball season. The stadium was torn down in 2008. The 9.5-acre site is owned by the city of Detroit, which requested the EDC to manage the redevelopment.
The City Council is expected to sign off on both projects, which could be completed by 2017.
The Tiger Stadium Partners, L.L.C. team, which will be developing the larger mixed-use project, includes Larson, Fundrise, Jenkins Construction, Heritage Development, Rossetti Architects, Stokas Bieri Real Estate, University of Michigan Sports Management, Popularize and The Pauls Corp.
The group's plan includes a four-story building along Michigan with approximately 30,000 square feet of ground-floor retail and 102 residential units averaging 800 square feet each. The project would also feature 24 townhomes along Trumbull that could be a for-sale product, according to the EDC, which approved the group's plan Tuesday. An alternate residential plan could increase the density along Trumbull to 141 units. The group has committed to making 20 percent of all units affordable housing.
"The decisions made today preserve the history of Tiger Stadium while at the same time providing for the future of the Corktown neighborhood, two historical sites important not only to our city, but the region as well," Rodrick Miller, president & CEO of Detroit Economic Growth Corp., said in a news release.
"This project is a great example of a true partnership between a developer and the community that will create opportunities for both," Miller added.
Eric Larson, president & CEO of the Bloomfield Hills, Mich.-based real estate investment and development firm, said in separate release that the vision of the project is to "transform this storied site into an activated, mixed-use development that builds on the vibrancy and history of Detroit's Corktown neighborhood, while providing economic opportunities for generations to come."
Part of that will be engaging with existing programs like the EDC's Commercial Corridor Revitalization program and Hatch Detroit, to promote entrepreneurial opportunities by providing half of the retail space at reduced rentals for local businesspeople.
Another important part of involving residents is using a crowd financing program through Fundrise.
"We are excited about participating in this iconic development, and our first project in Detroit. Through Fundrise everyone, especially Detroiters, will have the ability to invest in this groundbreaking development," Dan Miller, co-founder and president of Fundrise, said in a statement.
"2014 has been a year of enormous growth for Fundrise. Winning the right to join Larson Realty Group to redevelop the former Tiger Stadium shows that there is substantial support for giving individuals a chance to participate in real estate, both locally and nationally," added Ben Miller, co-founder and CEO of Fundrise, which has raised $38 million in a funding round that closed in June.
The $44 million being spent to revitalize the old Tigers Stadium area is one of numerous projects expected to get under way in Detroit, which just came out of bankruptcy. Mike and Marian Ilitch, owners of the Red Wings hockey team, are building a new arena as part of a $650 million entertainment district between Downtown and Midtown. Once the hockey team leaves Joe Louis Arena, two former creditors have been granted the rights under the bankruptcy agreement to take over the arena and land surrounding it for a hotel and retail development.