By Roxana Baiceanu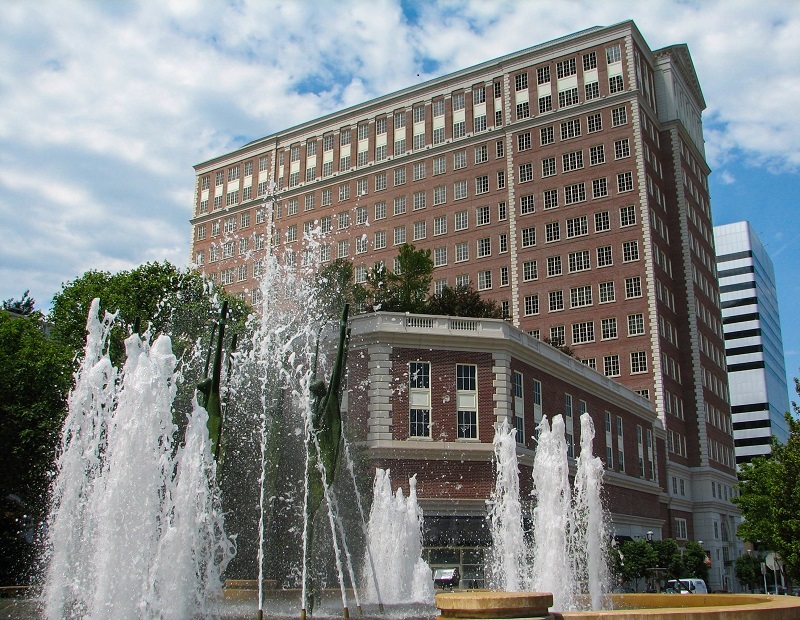 A joint venture between Franklin Partners and Bixby, an affiliate of Bixby Bridge Capital, made its first purchase in the St. Louis area. The property, which was part of KBS REIT's office portfolio, is The Plaza at Clayton. The 16-story office tower makes up one of the most desirable mixed-use developments in Clayton, Mo., and St. Louis.
"The Plaza is in a desired location in one of the premier submarkets in the Midwest. The classic design and surrounding amenities make it an undeniable trophy office building," said Ray Warner, one of Franklin's founding partners, in prepared remarks.
A brick and stone project
The 325,172-square-foot asset is located at 190 Carondelet Plaza, approximately 10 miles from downtown St. Louis. It also includes more than 10,000 square feet of retail space and an expansive underground parking which provides space for approximately 1,100 vehicles. The building features a state-of-the-art lobby using a mix of curved Makore paneling, Italian marble for flooring and wood.
The project, which also includes a residential and retail component, was designed by Atlanta-based Smallwood, Reynolds, Steward, Steward and developed by St. Louis-based THF Realty in 2001. It is considered to be the largest brick project built in the history of the city.
A team of brokers from CBRE made up of Executive Vice President Paul Lundstedt, Senior Vice President Dan Deuter, Office Properties Specialist Mark Palmer, Vice Presidents Artie Kerckhoff and TJ Redmond represented KBS in the transaction.
Image courtesy of CBRE