By Barbra Murray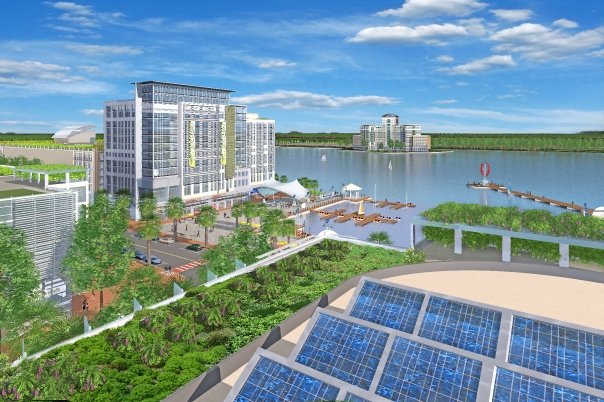 Parrish, Fla.—Florida Power & Light Co. (FPL) just broke ground on not one, not two, but three new solar power plants in the Sunshine State. Combined, the new plants in Southwest Florida will allow FPL to triple its current solar capacity.
Among the three projects is the FPL Manatee Solar Energy Center, which will occupy 762 acres on a site already owned by FPL in Manatee County. The electric utility company is also erecting the FPL Babcock Ranch Solar Energy Center within Babcock Ranch, a master-planned community currently under development in Charlotte County. The plant will be located on 440 acres of land donated by the  developers of the eco-centric Babcock Ranch. And rounding out the trifecta is the FPL Citrus Solar Energy Center in DeSoto County. The project will sit on 841 acres owned by FPL.
Each solar plant will boast 74.5 megawatts of solar capacity, and together they'll feature an aggregate 1 million panels. The three energy centers will also employ roughly 250 people during construction work.
"If you laid these panels end to end, they would nearly wrap around the entire state," Eric Silagy, FPL president & CEO, said in a prepared statement. "But we couldn't have come this far on our own. Working with the communities we serve, we are building solar energy centers that are not only reliable, but also cost-effective, providing affordable, clean energy for our customers for generations to come."
The Florida Power & Light Co. is the third-largest electric utility in the United States, serving in excess of 4.8 million Floridians. The three new centers join FPL's existing solar facilities roster, which includes the FPL DeSoto Next Generation Solar Energy Center in DeSoto County and the FPL Martin Clean Energy Center—the world's first hybrid solar/natural gas plant.
FPL expects the facilities to be up and running by year's end.
Images courtesy of the Babcock Ranch official Facebook page