By Ioana Neamt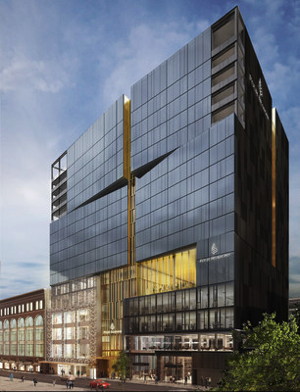 Montreal—Four Seasons Hotels & Resorts is teaming up with Carbonleo to deliver a $250 million Four Seasons hotel and private residences on Montreal's de la Montagne Street.
The project will incorporate a 163-key hotel and 18 private residences, state-of-the-art spa, indoor swimming pool, fitness center and extensive meeting and event spaces. The new Four Seasons hotel will also feature three world-class dining venues and high-end valet parking service.
"Our vision is to create an architectural ode to extraordinary urban living that will help redefine Montreal's famous Golden Square Mile," Andrew Lutfy, chairman at Carbonleo, said in a statement. "This will become an exciting lifestyle and dining epicenter for both Montrealers and visitors, linking the Bell Centre to the museum district in the heart of the action."
Holt Renfrew & Co. has plans to turn the Sainte-Catherine's Street Ogilvy location into a 220,000-square-foot luxury retail destination, which will be directly connected to the new hotel.
"Inspired by the best of both Holt Renfrew and Ogilvy, our plans will leverage these two storied brands with bold new concepts that celebrate Montreal's rich fashion heritage and sophisticated shoppers," stated Mario Grauso, president of Holt Renfrew.
Rendering courtesy of Four Seasons Hotels & Resorts