By Barbra Murray, Contributing Editor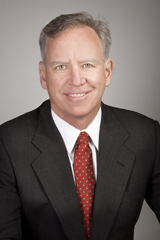 Could Grubb & Ellis 2.0 be shaping up under the American Realty Capital umbrella? Since Grubb & Ellis Co. began its downward spiral toward bankruptcy late last year, ARC has snapped up a few major players from the real estate firm, and Thomas D'Arcy, former Grubb & Ellis CEO, is the latest and one of the biggest. He joins American Realty Capital Healthcare Trust Inc., ARC's real estate investment offerings, as CEO of its advisor.
D'Arcy is a big fish, indeed; he's been a prominent figure in commercial real estate for more than 25 years, having held leadership positions at Bayside Realty Partners and Equity Investment Group. He was at the helm of Grubb & Ellis as CEO for the last two-and-a-half years, a period during which the skies darkened for the 53-year-old firm. In 2010, D'Arcy spoke to Commercial Property Executive about his visions for the company, saying that one of his main goals was "to create as much opportunity for the employees of Grubb & Ellis as possible." And in a rather unexpected way, he has.
As Grubb & Ellis crumbled–BGC Partners Inc. recently completed the U.S. Bankruptcy Court-approved acquisition of the company's assets and commenced integrating it into Newmark Knight Frank to create Newmark Grubb Knight Frank–many top staff members began to seek employment elsewhere, and more than a few of them found a home at ARC.
Richard Arnitz, former CEO of Grubb & Ellis Capital Corp., then the dealer manager for Grubb & Ellis Healthcare REIT II, came aboard in January as executive director of its broker dealer subsidiary, Realty Capital Securities, tasked with managing the strategic sales initiatives for ARC Healthcare Trust and American Realty Capital Retail Centers of America. Lavea Thomas and Diana Kearney, both formerly of Grubb & Ellis Capital, joined ARC's Realty Capital Securities team in December as director of national accounts and chief marketing officer, respectively.
There certainly appears to be a pattern here. "ARC has attempted to hire whomever they could that had some association with the Grubb & Ellis Healthcare REIT," an industry source told CPE. Grubb & Ellis Healthcare is now Griffin-American Healthcare REIT II Inc., and is co-sponsored by American Healthcare Investors L.L.C. and Griffin Capital Corp. ARC was unsuccessful in its bid for the REIT. "Griffin-American is the leading non-traded healthcare REIT in the market; ARC Healthcare Trust is trying to compete with Griffin-American," the source said.
D'Arcy has not commented on his new position or goals for ARC Healthcare, but as he shared with CPE in 2010, growing a business is a goal he's met successfully in the past. "I've been the CEO and chairman of two NYSE-traded companies and I've built a company from less than $100 million to over a billion-two, and I've always done this by being focused on growth," he said. "I always believe that as long as you're growing and moving forward, good things are going to happen. You obviously have to do it prudently. You have to do it within your capital structure."
ARC has not yet revealed an official start date for D'Arcy.