By Gail Kalinoski
Flat Rock, Mich.—Ford Motor Co. is spending about $700 million to expand its Flat Rock, Mich., plant as part of an overall $4.5 billion investment on electrified vehicles over the next four years. The move will add about 700 jobs in Michigan and came on the same day the automaker said it was cancelling plans to build a $1.6 billion plant in Mexico.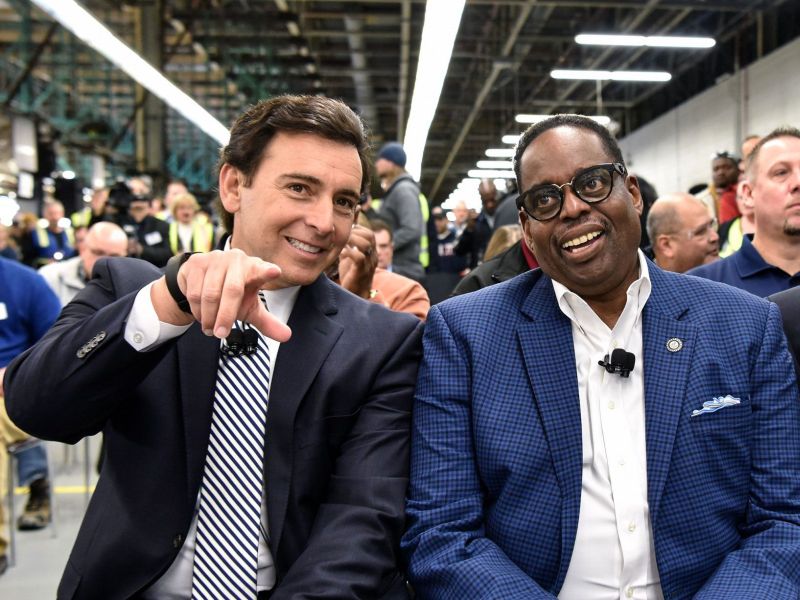 The announcement, made at the Flat Rock Assembly plant, calls for the factory to build high-tech autonomous and electric vehicles along with its famous Mustang and Lincoln Continental cars at the plant where it will create a Manufacturing Innovation Center.
"As more and more consumers around the world become interested in electrified vehicles, Ford is committed to being a leader in providing consumers with a broad range of electrified vehicles, services and solutions that make people's live better," Mark Fields, president & CEO, said in a prepared statement. "Our investments and expanding lineup reflect our view that global offerings of electrified vehicles will exceed gasoline-powered vehicles within the next 15 years."
The automaker plans to electrify some of its most popular, high-volume commercial vehicles, trucks, SUVs and performance vehicles, including the iconic Mustang that will be built as a hybrid at the Flat Rock plant. A hybrid version of the popular F-150 pickup truck will be built at the Ford Dearborn Truck Plant in Dearborn, Mich. Flat Rock will also build a fully electric small SUV that can drive at least 300 miles before recharging and a high-volume autonomous vehicle designed for commercial ride hailing or ride sharing.
"In the next decade, Michigan will lead the world in reimaging transportation with the acceleration of next generation advanced technologies," Michigan Gov. Rick Snyder said in a prepared statement.
Ford's announcement came hours after President-Elect Donald Trump criticized the General Motor Co. for making Chevrolet Cruze automobiles in Mexico. During the presidential campaign, Trump, who takes office on Jan. 20, threatened Ford and other automakers with huge tariffs to bring Mexican-made vehicles into the United States. He also repeatedly called Ford out for planning to move production of its compact Focus to a new plant in San Luis Potosi, Mexico. While Ford decided not to go ahead with building the San Luis Potosi plant to manufacture the Focus models, it plans to produce the compact cars in an existing Hermosillo, Mexico, factory. Those vehicles will reportedly be shipped overseas where the demand for compact cars is greater than in the U.S.
While Fields denied making any kind of deal with Trump, he did acknowledge he was "encouraged" by "pro-growth policies" the new Republican-led administration and Congress have talked about, according to a Crain's Detroit story.
"We believe that these tax and regulatory reforms are critically important to boost U.S. competitiveness and of course drive a resurgence in American manufacturing and high-tech innovation," Fields stated.
Ford had good news for several of its other U.S. plants this week, noting that one of two new hybrid police vehicles will be built in its Chicago plant and both will be upfitted with police gear at Ford's modification center in Chicago. Also, 3,500 jobs will be retained at the Wayne, Mich., assembly plant that currently manufactures Focus as they work on two other Ford products—the Ford Ranger pickup and Bronco SUV, according to The Detroit News.