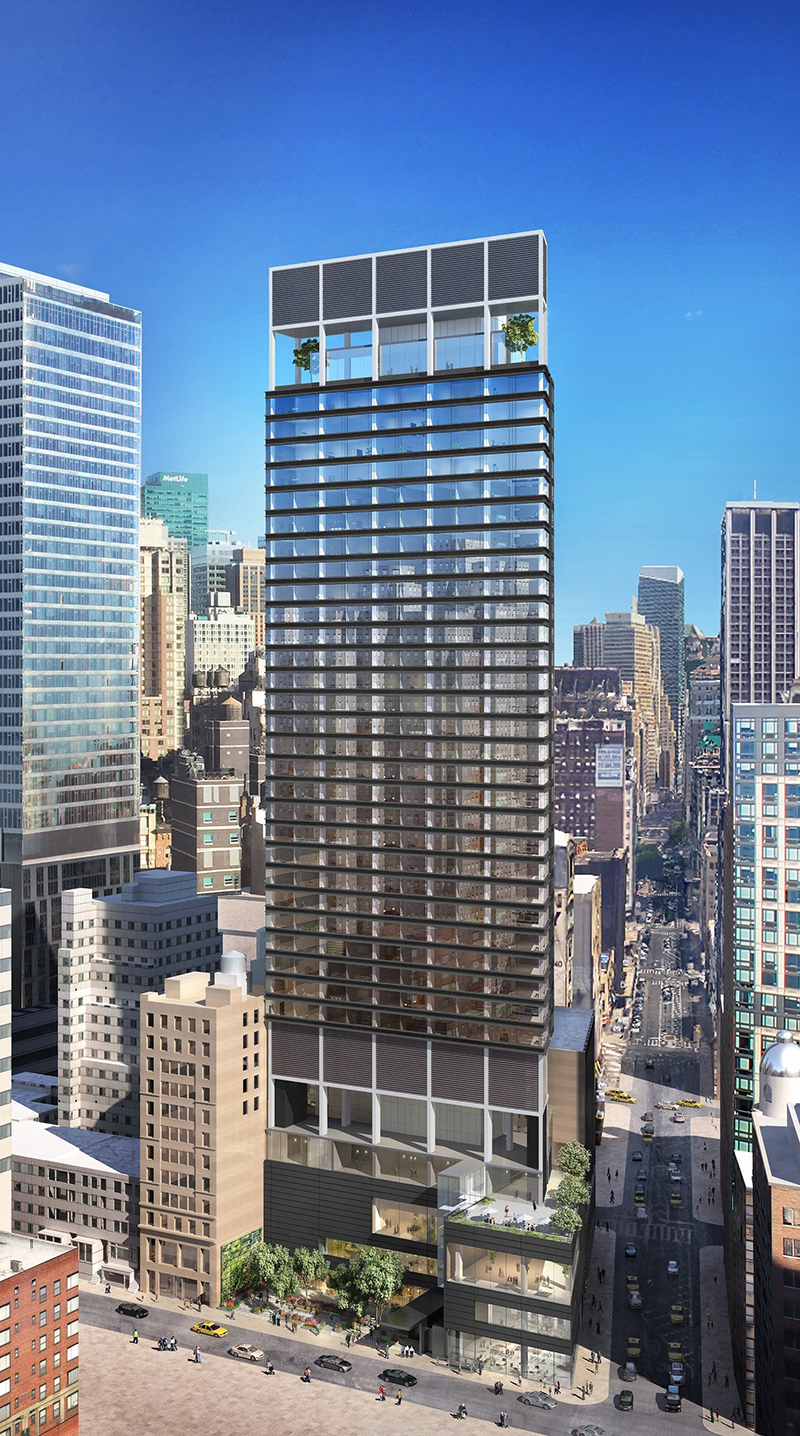 Flag Luxury Group has found a new equity partner for its Manhattan hotel project, The Ritz-Carlton New York, NoMad. EB5 Capital made a $125 million preferred equity investment in the 250-key luxury lodging destination, which is being developed at a cost of approximately $508 million.
Flag Luxury, which commenced development of the Ritz-Carlton NoMad with a $250 million senior construction loan and $65 million preferred equity investment from Atalaya Capital Management in 2018, is scheduled to deliver the hotel in 2021. The investment in the Rafael Viñoly-designed development marks EB5 Capital's fifth project involving a hotel operating under one of the brands of Marriott International, which inked a management agreement with Flag Luxury in July 2018.
"Our company is very conservative in the selection of EB-5 projects and developer partners, and we spent many months analyzing potential EB-5 investment opportunities in NYC," Brian Ostar, senior vice president of global operations with EB5 Capital, said in a prepared statement.
The Ritz-Carlton NoMad is sprouting up at 1185 Broadway, a site that Flag Luxury purchased in conjunction with the neighboring lot at 29 W. 28th St. for $100 million in 2015. Upon completion, the hotel property will also feature 16 Ritz-Carlton-branded penthouse residences as well as a restaurant, signature lounge, rooftop bar, public garden and a signature spa and fitness facility.
Homing in on hotels
EB5 Capital, a leader in the EB-5 immigrant investor industry, is quite keen on the U.S. hotel market, which continues to fare rather well. "Despite the first indications of a potential softening in U.S. lodging performance, the industry still is forecast to operate at exceedingly high occupancy levels and profit margins," according to the March 2019 edition of CBRE's Hotel Horizons research.
EB5 Capital's latest projects in the hotel sector include the 504-key, dual-branded Courtyard and Residence Inn by Marriott at 901 L St. NW in Washington, D.C. EB5 made a $40.5 million preferred equity investment in the project, which opened in November 2018. EB5 is also part of the team that provided financing for the 148-key Proper Hotel redevelopment project, located in downtown Los Angeles and scheduled to reach completion in summer 2019.