November 11, 2010
By Barbra Murray, Contributing Editor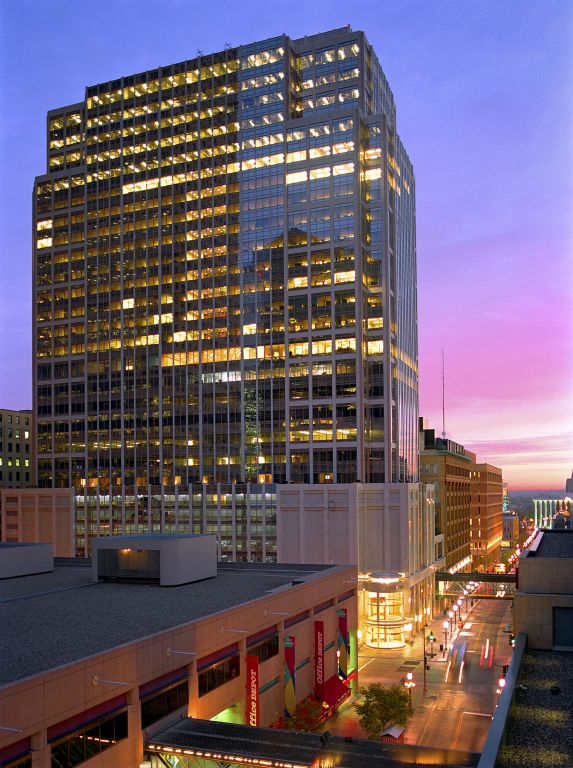 Hines served as the co-developer of Fifty South Sixth, a Minneapolis office high-rise encompassing 698,600 square feet of premier leaseable office space, in 2001 and after having sold it in 2005, the company is once again the proud owner. Hines Global REIT, a public non-traded REIT sponsored by Hines, just completed the purchase of the premier 29-story structure from KanAm Grund Kapitalanlagegesellschaft mbH for $180 million.
Designed by the architectural firm of Skidmore, Owings & Merrill, Fifty South Sixth sprouted up nine years ago on Nicollet Mall in the city's central business district, courtesy of a joint venture between Hines and Lend Lease Real Estate Investments Inc. The team built the property on behalf of an institutional client.
In 2005, KanAm Grund acquired the asset for $193.3 million. Today, Fifty South Sixth–which also offers parking accommodations for 646 vehicles, on-site restaurants, an on-site childcare center and four-way access to the Minneapolis Skyway System–is 94 percent leased to a lengthy roster of approximately 30 tenants. Among the businesses that call the office tower home is international law firm Dorsey & Whitney L.L.P., which occupies 48 percent of the office space, or approximately 333,300 square feet, under a lease scheduled to expire in September 2016. Auditing and financial advisory firm Deloitte & Touche USA L.L.P. claims 20 percent of the office accommodations, occupying 142,400 square feet as per a lease agreement that ends in June 2024.
This time around, Hines is in for the long haul with Fifty South Sixth. "We feel that Minneapolis will outperform the national average in occupancy and rent growth due to strong corporate presence and lack of overbuilding," John McDermott, vice president with Hines, told CPE. McDermott served as internal representation for Hines in the transaction, and commercial real estate services firm Eastdil Secured stood in for KanAm Grund.
Hines never fully parted ways with Fifty South Sixth; the company had continued to serve as property manager since the building's doors first opened.