Five Mile Capital Buys 32-Story Office Tower in Atlanta
Five Mile Capital Partners has acquired 100 Peachtree, a 32-story iconic office tower in Atlanta, from America's Capital Partners.
By Keith Loria, Contributing Editor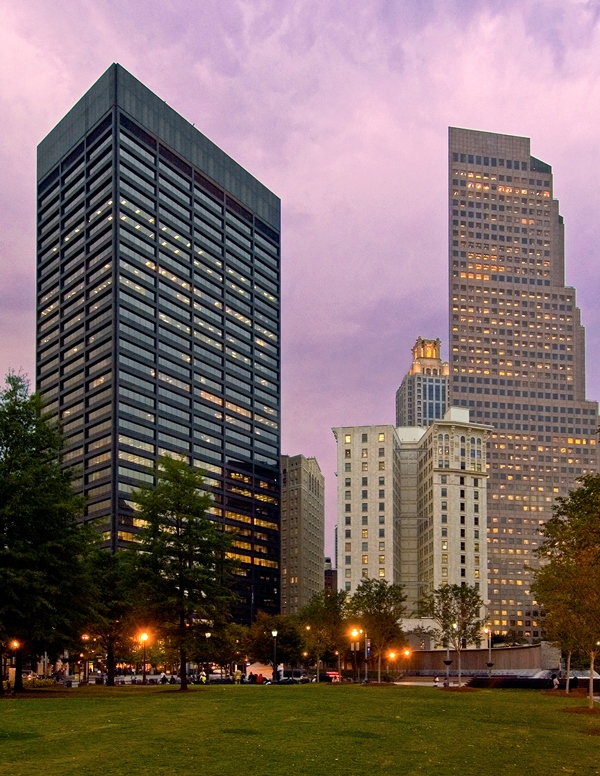 Five Mile Capital Partners, L.L.C. has acquired 100 Peachtree, a 32-story iconic office tower in Atlanta, from America's Capital Partners.
ACP had originally purchased the property in 2012 and completed a substantial renovation and repositioning.
"As with all our acquisitions, basis was a major factor," Jude Williams, ACP's president, told Commercial Property Executive. "We paid only $19 million for a 622,000-square-foot building and three large parking decks. We also saw where the two owners before us failed due to their inability to reposition the property and at our low basis had the ability to justify a $17 million comprehensive renovation program."
The renovations included the addition of new energy-efficient dual-pane windows, a new marble clad lobby, the addition of a newly landscaped café and retail plaza, state of the art security systems and an amenity floor with a 9,000-square-foot conference center, a mock courtroom and a full size fitness center.
"From our experience at Peachtree Center which we acquired in 2006, we knew the downtown office market and had faith that it has everything big block users look for with the best location in the center of the CBD—three Marta stations within walking distance and a very deep amenity base of restaurants and hotels," Williams added, "100 Peachtree was an opportunity play for us and we usually complete our investment objective between three and four years."
Also part of the renovation efforts was a collaboration with Georgia State University's Earnest G. Welch School of Art and Design, that led to the creation of the 100 x 100 Project, where students participated in a design competition titled "Identity 100: Rebranding 100 Peachtree" that resulted in more than 40 original pieces of graphic art, fine art and animated video focused on the number 100 being incorporated in the building.
During its ownership, ACP also attracted two major credit tenants and a wide variety of small and mid-size users.
According to Williams, the company remains bullish on downtown Atlanta and is considering other acquisition opportunities in the area, looking to expand its holding in Atlanta by another 2 million square feet. It recently closed on two major suburban Atlanta properties (the 716,000-square-foot Towers at Wildwood Plaza and the 370,000-square-foot TownPark Ravine office complex).
Over the past 15 years ACP has acquired, managed and leased more than 18 million square feet of office space in major markets along the east coast of the United States with an aggregate asset value of more than $4 billion.
"We are very involved with other partners who want to invest in multiple deals with us and we are looking at over 10 opportunities right now all across the southeast, Colorado and Texas," Williams concluded.