By Robert Demeter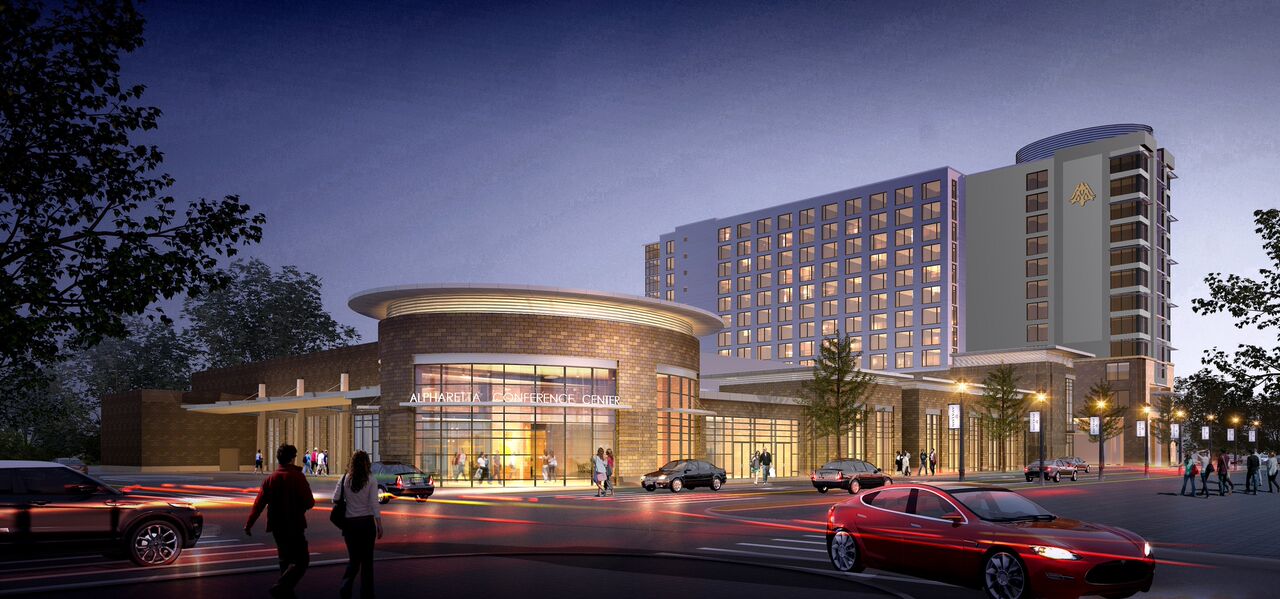 Atlanta—Stormont Hospitality Group, North American Properties, Long Wharf Real Estate Partners and the city of Alpharetta have announced the groundbreaking of Alpharetta's first luxury hotel and conference center, The Hotel at Avalon.
The luxury 330-key hotel and the connecting 65,000-square-foot Alpharetta Conference Center broke ground on June 21. The $112 million project is the culmination of a public-private partnership to bring a world-class hotel, conference and event facility to the city of Alpharetta, an affluent northern suburb of Atlanta. The hotel and conference center will open at Avalon in January 2018.
The Hotel at Avalon will be a member of Autograph Collection Hotels, Marriott International's distinctive portfolio of independent hotels, and create a resort-inspired destination at the biggest mixed-use development in Avalon.
"With more than 600 technology companies in Alpharetta, The Hotel at Avalon and Alpharetta Conference Center will bring much-needed meeting and conference space to the North Fulton community," said Jim Stormont, president of Stormont Hospitality Group.
The Hotel at Avalon will incorporate a local chef-driven restaurant, 24-hour fitness center, upscale pool with outdoor catering space, Club Avalon Concierge, valet services and ample outdoor spaces.
The Alpharetta Conference Center will be the region's largest venue for meetings, trade shows, events and special celebrations. The conference center will feature a 12,500-square-foot exhibit hall, a 10,000-square-foot executive ballroom with six salons, six meeting rooms, an Executive Board Room, a reception area, substantial pre-function space and outdoor venues. Additionally, the ballroom and exhibit hall have the option to combine into one free-span, 22,500-square-foot function room for large events.
"Having a conference and event facility of this scope and size is a tremendous asset to Alpharetta's business and social community," said Janet Rodgers, CEO of the Alpharetta Convention and Visitors Bureau. "This is a unique opportunity to better serve the community and bring new upscale business and leisure travelers to our market."
Cooper Carry is the architect of record for The Hotel at Avalon and the Alpharetta Conference Center, Brasfield & Gorrie is the construction firm, and funding was arranged through SunTrust Bank. Known for its expertise in managing upper upscale and luxury properties in urban markets, HEI Hotels & Resorts will serve as the hotel management company. The Hotel at Avalon is located at the crown of Avalon Boulevard within Phase II of Avalon, just 25 miles north of Atlanta and easily accessible via GA-400.
Image courtesy of The Wilbert Group.